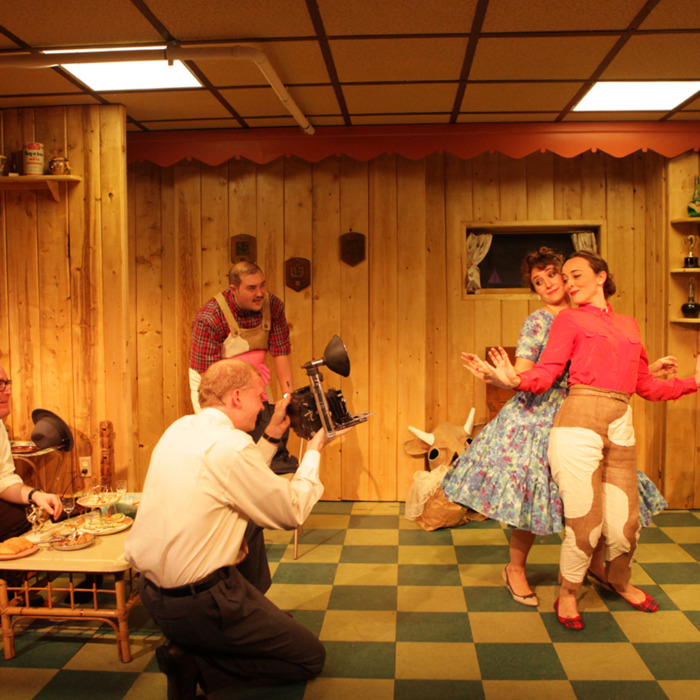 The Debate Society's
Blood Play.
Photo: Sue Kessler
It's finally and truly cold, and for anyone looking not to congeal, I prescribe triple doses of wonderfully weird theater. What better time of year to huddle together with your fellow humans, warming yourselves with quirk, madness, beauty, and horror? Nothing gets the ol' particles into hot perturbation like young avant-gardists acting-out.
Luckily, we've got festivals for that sort of thing. COIL (presented by experimental powerhouse PS 122) and Under the Radar (curated by the Public Theater) are the biggies this month, with HERE's Culturemart bringing up the rear (and extending well into February)—and I'm not even touching on American Realness, Prototype, and The Fire This Time. The offerings look generously strange. To be clear: I've seen none of these shows yet, with two exceptions: UTR will be remounting the Debate Society's exquisitely unsettling Blood Play, and if you missed it in Bushwick, make sure you catch it in Manhattan. And last night, I was lucky enough to catch Kristen Kosmas's superb metatheatrical meltdown There There, a demented mental diary of Chekhov's greatest psycho, Solyony from Three Sisters, as imagined by Christopher Walken and then performed by Walken's underprepared understudy (Kosmas herself), as… as… oh God, I'm making this sound awful. It's not awful. It's funny and sad and gorgeously staged: a dark-comic poem of loss, alienation, and the inarticulate violence lurking in our desire to connect with our fellow humans.

The Chekhov-derived options don't stop there: We've also got Half Straddle's Seagull (Thinking of You), "an unexpected meditation on why we ever try to say something out loud… with a Russian folk metal-influenced score." Then there's Ganesh Versus the Third Reich, which takes the taco for Best Title of Ever, and also incorporates this image: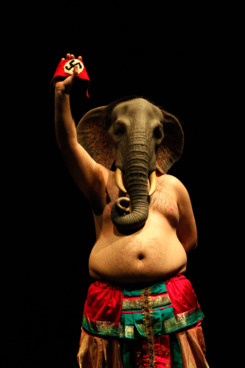 …which, if I were a college sophomore, I'd probably have on a T-shirt by now. I wouldn't have the stones to wear it, of course, but I'd definitely pay to have it fabricated before thinking better of it. This is high praise.

Remember Elevator Repair Service? Those geniuses behind Gatz? Well, they're developing a new show—one that's so new, in fact, critics are not being let in to see it. It's called Arguendo, it's a work-in-progress, and here's the descrip: "In Barnes v. Glen Theatre, a 1991 First Amendment case brought by a group of go-go dancers, the justices of the U.S. Supreme Court debate whether dancing naked in a strip club is an exercise of artistic expression or a crime. In Arguendo, ERS presents the case's oral argument, verbatim…" Repeat: You can see this show, civilian. I cannot. This torments me. So go and tell me how it is.

Meanwhile, the Nature Theater of Oklahoma—praises sung here, by Alexis Soloski—will present the first few legs of a mammoth project, with a mammoth title: Life and Times. It is, as advertised, a life, derived from a very long phone conversation, dramatized like grand opera. You can see it in shreds and patches, or all at once, if your glutes are still Gatz-strength.  Ooh, and if you likee the Belarus Free Theatre—and you should—check out Minsk 2011: "If scars are sexy, Minsk is the sexiest city in the world. Strip clubs, underground raves and gay pride parades pulse beneath the surface of a city where sexuality is met by government oppression. A love letter to a home that exiles those willing to fight for it…"

This is but a taste. There's so much more: Pig Iron Theatre's Zero Cost House looks promising, as does Radiohole's Inflatable Frankenstein, and Ruff, from Peggy Shaw, performer and recent stroke victim, about being a performer and recent stroke victim. Later, I plan to infiltrate Lost Property Unit, about a woman whose "sole link to society and the controller of her own private world is a cyborg pet.  In Lost Property Unit, elements of Alfred Hitchcock suspense-thrillers, Wong Kar-wai nostalgic romances and Twilight Zone science-fiction-fantasies converge." (I very much want this show to do for me what Cloud Atlas didn't.) And for a finish? My Mickey Finn of choice will probably be The Pigeoning, "an original puppet piece by Robin Frohardt about obsessive compulsion, pigeons and the end of the world." Is this the way the world ends? Not with a seagull but with a pigeon? I'll find out this winter. Come join. Stay warm. Stay weird.