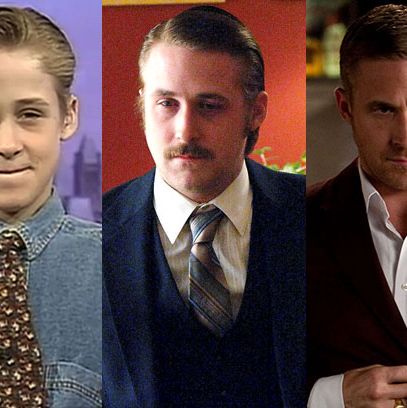 What makes Ryan Gosling Ryan Gosling? George Clooney thinks it's "the way he dresses and his hair," and he is half correct: Anyone can buy clothes, but Gosling's hair is truly unique. Specifically, the part in his hair. In his twenty years as a working actor, he has taken on a wide variety of parts, and his part has shifted along with his onscreen personality: Chasing his part is like chasing the wind. In the days of Channing Tatum's nondescript, grown-out crew cut, Gosling's itinerant part makes a statement in every role. In honor of his thoroughly parted performance in Gangster Squad, which comes out this weekend, let us walk together through the history of Ryan Gosling's hair part. It is a very well-defined path.
Mickey Mouse Club (1993):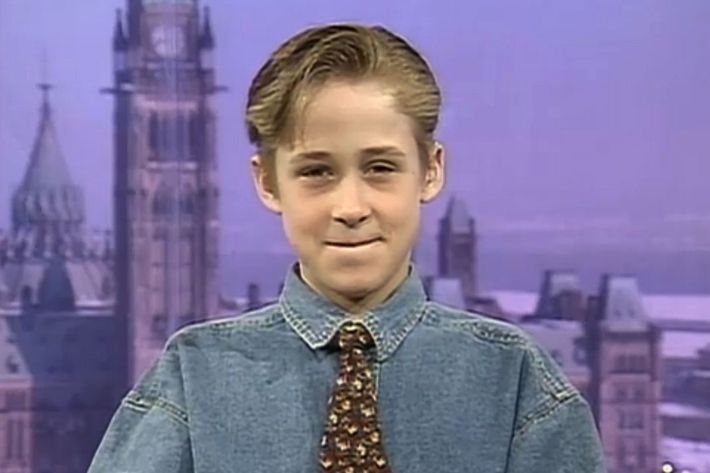 This is where it all starts. Consider it his baseline part. Almost a complete left-side part, with a little insouciant swoop that resembles a surfing barrel obstructing the part a bit. It's hard to say if this was the fashion for Canadian youths at the time, but that denim shirt most definitely was.
Are You Afraid of the Dark? (1995)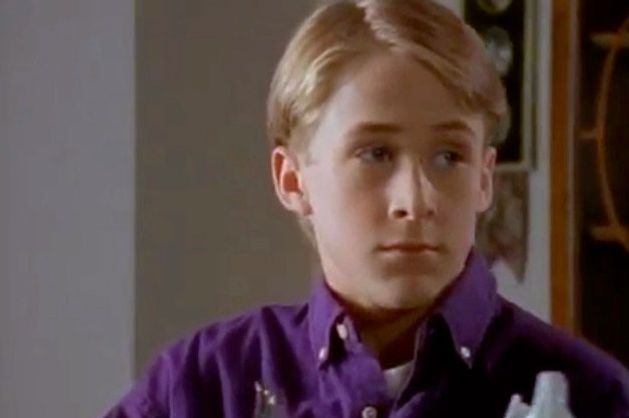 Like most teens, Gosling was clearly experimenting with his own identity. It is two years later, and he is trying to see what life is like as a right-part guy. Anyone who has ever tried to change the part in their hair knows that this is far more complicated than just getting a haircut: a painful reorientation of scalp momentum is necessary, but even at 15, Gosling was willing to endure discomfort to find out who he truly is. The new look makes him discernibly more dangerous: The spooky, scary almost-center-but-slightly-to-the-right part lets you know that you should be afraid of the dark.
Kung Fu: The Legend Continues (1996)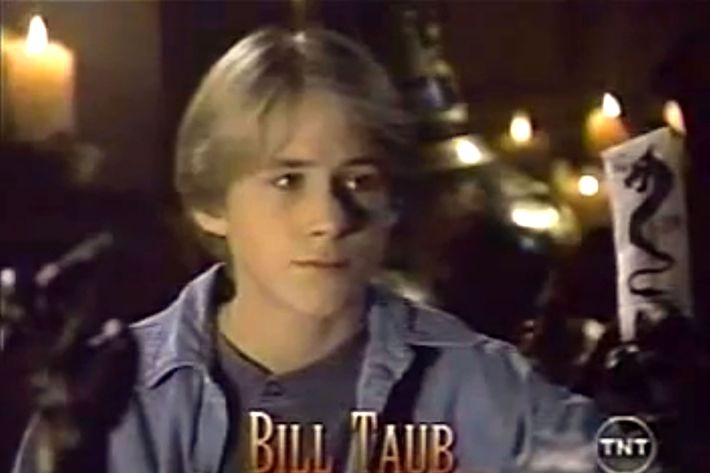 And yet, a year later, he decides it is better to fit in. In the mid-nineties, the center part was king, and here is Gosling doing his best Jonathan Taylor Thomas.
Frankenstein and Me (1997)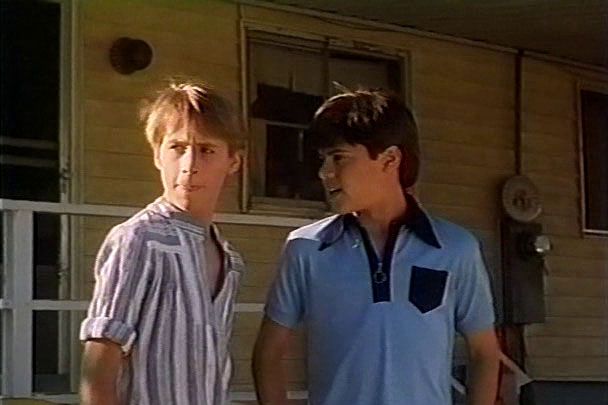 It's alive! It's alive! This marks the sad period in Gosling's career in which a part was no match for his bangs. His forehead was missed — but was set to return with a vengeance!
Breaker High (1998)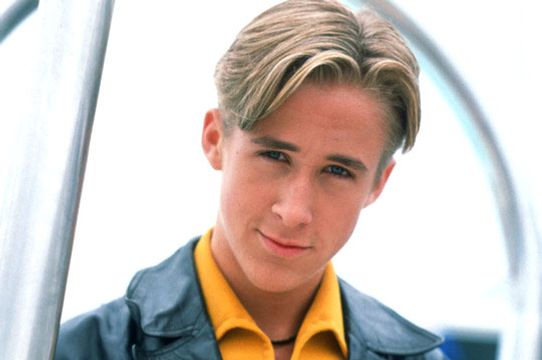 There it is! It's 1998, which meant it was time for Gosling to go full-mushroom (note how short the hair is on the sides). Technically an off-center butt-cut, he is flirting with a center part but not entirely ready to commit. Such indecision would vanish in his later indie years.
Young Hercules (1999)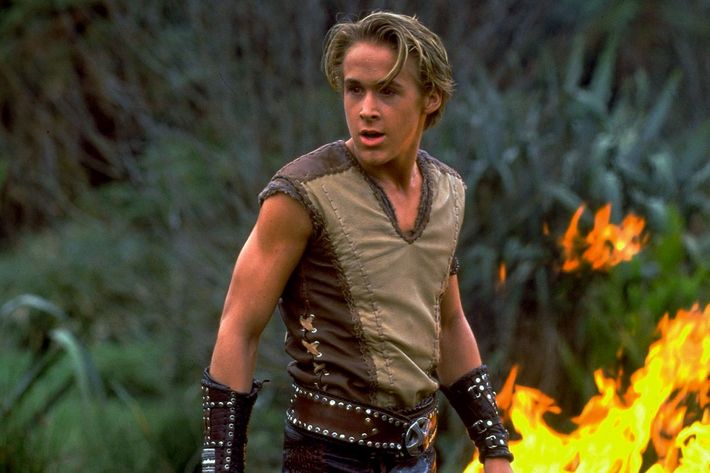 Maybe as a result of the uncertainty of playing a half-god, Gosling's part moved an inch or two to the right. This represents the least clearly defined part of his career. Even Hercules can't wrangle Hercules's hair.
Remember the Titans (2000)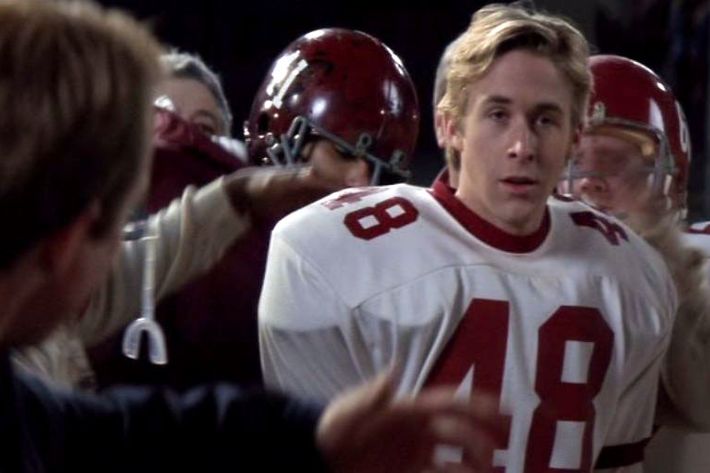 And just like that, Gosling's hair is the mirror image of his Herculean hair. He was probably just copying the film's true hair star: Sunshine.
The Believer (2001)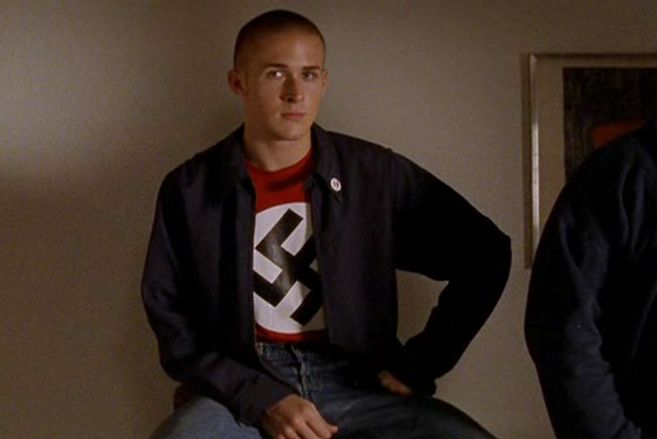 This is the reset. Gosling had been parting his whole life, and at 21, he needed to take a break — to part ways with the part, if you will. This marked the beginning of three years of Ryan Gosling partlessness (and the beginning of his more serious, adult acting career, but that is secondary). It was one of the darkest times in our history.
The Notebook (2004)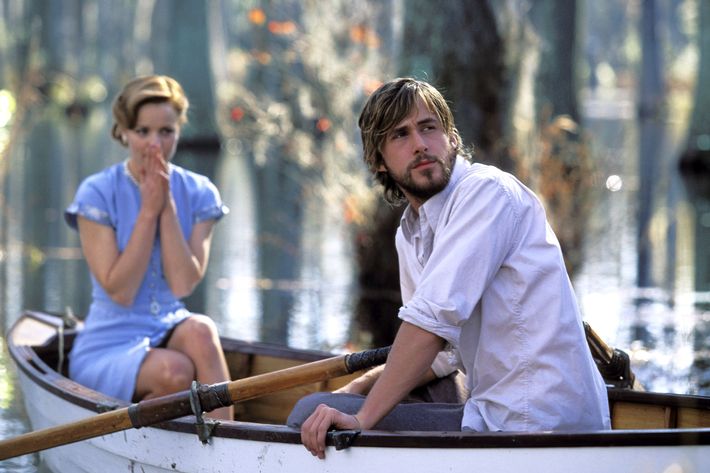 It shouldn't come as a surprise that The Notebook felt like a comeback of sorts for Ry, as finally a part returned. This photo shows what happens when a lovable side part is left unmaintained because of years of loneliness.
Half Nelson (2006)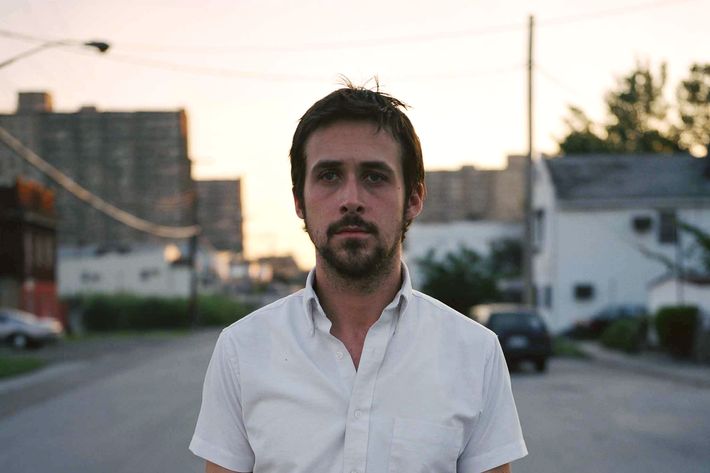 It's easy to see this picture and say, "What are you talking about? There is no part." Which is what makes this haircut so brilliant: Gosling's hair is cut for a traditional side part; however, his character is too run down to put in the necessary combing effort — you know, because of all that crack.
Lars and the Real Girl (2007)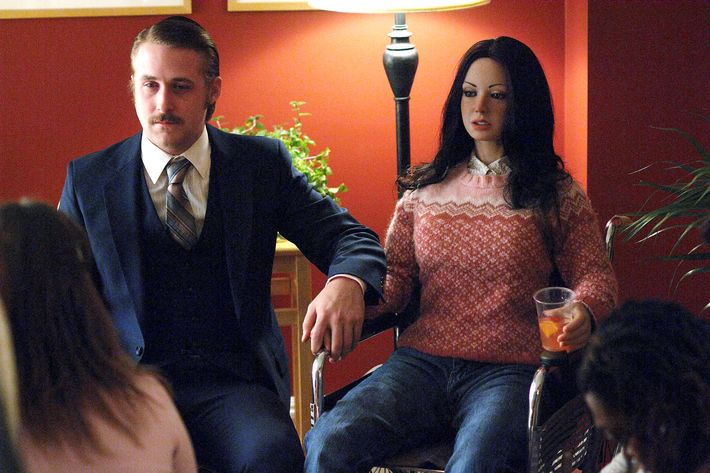 There is something called "Hair Part Theory." It asserts, among many things, that men with left parts are more successful and are perceived as more masculine. (The classic example of this is that Clark Kent has a right part, while Superman has a left.) Of course poor Lars would part his hair on the right.
Dead Man's Bones (2009)
For much of Gosling's run as the lead singer of Dead Man's Bones, he rocked the traditional left-side part. It worked both because it fit with the band's vaguely fifties feel and because it suggests an innocence that echoes their use of a children's choir.
Blue Valentine (2010)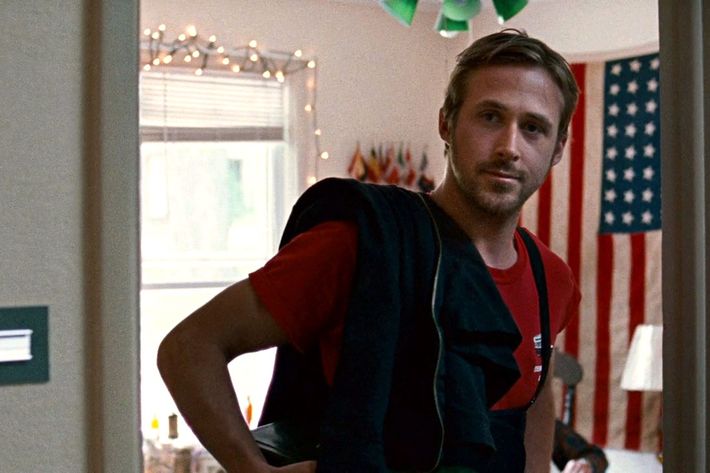 Where most left-side parts start all the way to the side, Gosling's often starts closer to the middle. This is because his head is superhumanly oval-shaped. Eggs look at his head and say, "You win, sir."
Crazy, Stupid, Love. (2011)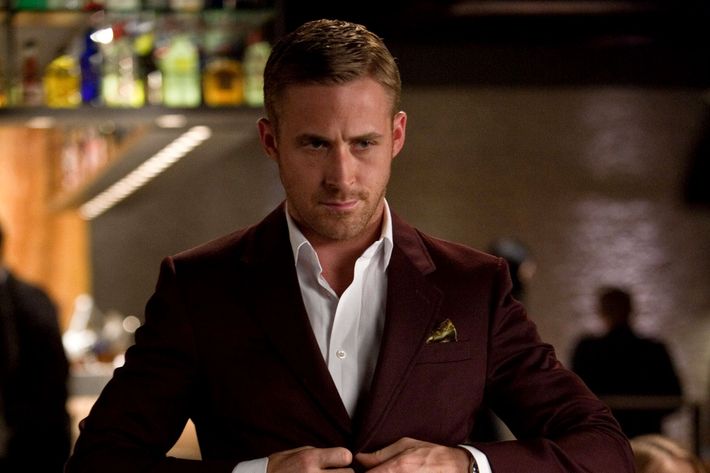 This is the peak of Ryan Gosling's side-part game and marks what seems to be a full commitment to the left side. With its very short sides and a part that is as well defined as his abs, it immediately asserts his character's confidence. Before he opens his mouth, that part coos, "Wanna get out of here?"
Drive (2011)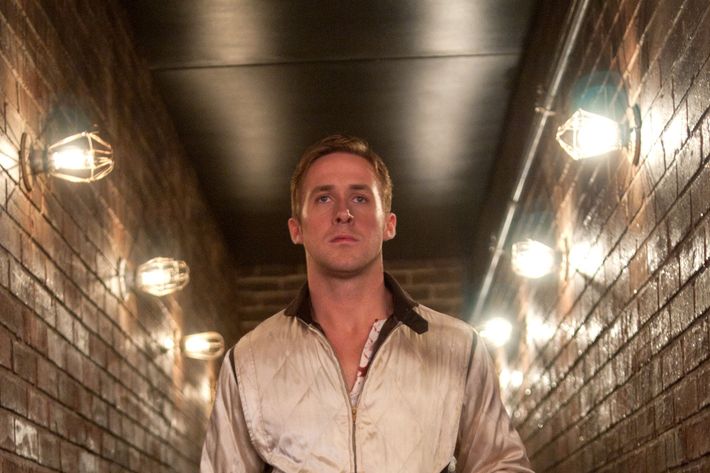 Described as "the Driver," Gosling's hair is modeled after Steve McQueen's. Basically, it takes the traditional schoolboy part and messes it up as if he had been driving with the window down for a while. But the left part is the mirror image of McQueen's right, underlying the film's archetype subversion.
The Ides of March (2011)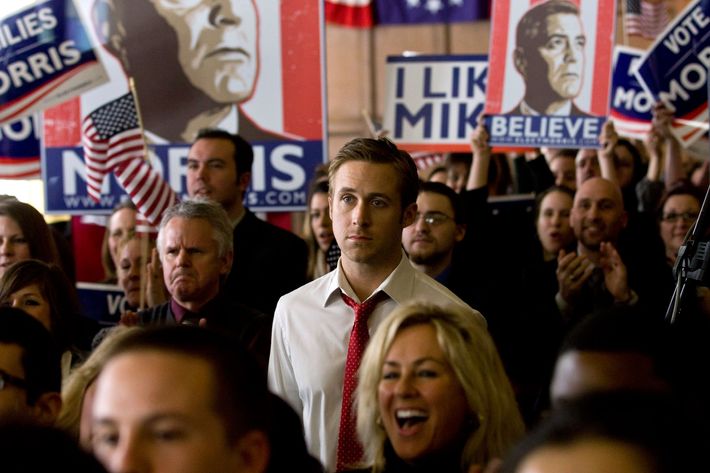 The clear left part points to the film's political leanings. Gosling came in with a left part, but even a John 3:16 rainbow wig magically parts to the left when in close proximity to George Clooney.
Gangster Squad (2013)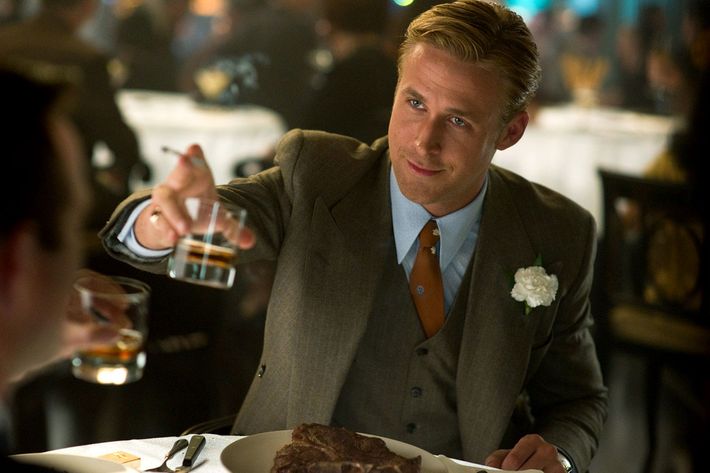 Considering the film's forties setting, Gosling's part is historically accurate. More than that, if we assume right means evil and left means good, the part's placement somewhere between left and center suggests a good character with a touch of evil. Also, as was mentioned before, it suggests that Gosling's got a really oval-shaped head.