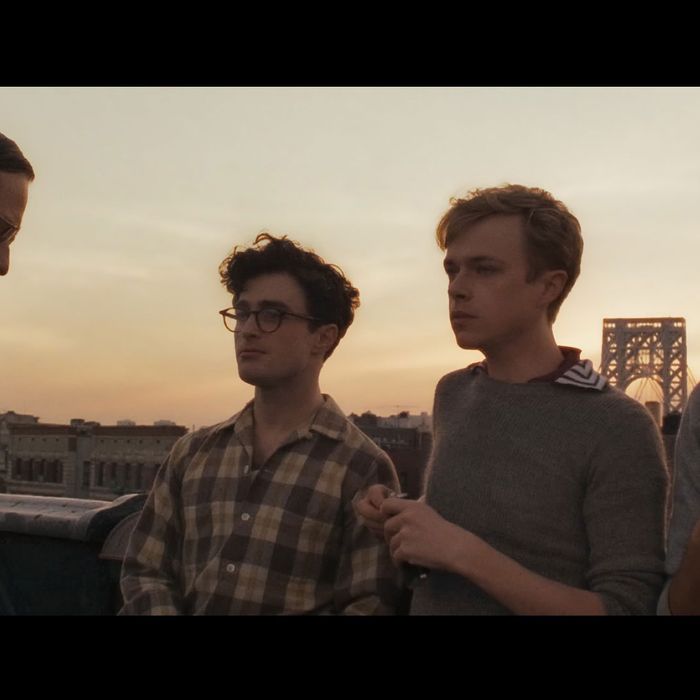 Photo: Courtesy of Benaroya Pictures/Courtesy of Sundance Institute
In the Sundance drama Kill Your Darlings, it's the middle of World War II and Columbia University freshman Allen Ginsberg, as played by your beloved boy wizard Daniel Radcliffe, has just embarked on an important mission to save the world from trite literature. No wands are involved in this plan, though; instead, Radcliffe as Ginsberg dives into an amphetamine-fueled writing bender and masturbates so furiously you fear for skin loss. And he does the role with an almost perfect American accent. And with a perm. Radcliffe is so game, so clearly hungering to lay it all out on the screen, that one can imagine him stripping naked for his big gay sex scene before he was even asked. Professor McGonagall, cover your eyes.
Plenty of young actors look for a film-festival role to prove that they've outgrown their cute-kid years, among them Robert Pattinson with Cosmopolis, Kristen Stewart with the sexy On the Road, Zac Efron in the campy Cannes entry The Paperboy, and Michael Cera, who was seen at Sundance a few days ago with Crystal Fairy, in which he wanders through Chile on a quest for drugs. What makes Radcliffe stand apart, though, is that he doesn't seem to be treating his big Sundance moment as an escape. Instead, it's part and parcel of Radcliffe's go-with-gusto plan to seize everything thrown his path — whether it's going full frontal night after night in Equus, or hoofing his heart out in How To Succeed in Business Without Really Trying — without any apologies to those who might see his choices as weird or shocking. By rewriting the usual kid-star career template to suit his own diverse interests, he's like a more gregarious, bumbling, British James Franco.
Though Kill Your Darlings tells the intriguing, little-known story of how a murder pulled together Beat figures like Ginsberg, Jack Kerouac, and William Burroughs, it's inevitable that early reactions to the film will highlight the scattered few sex scenes; after all, whether Radcliffe is getting a blow job from a Barnard co-ed, kissing his manipulative crush Lucien Carr (Dane DeHaan), or finally throwing his legs behind his ears with a man he's just picked up at the bar, he's doing it while wearing thick-framed glasses that look eerily similar to Harry's. Yet it's to the great credit of Radcliffe and first-time feature director John Krokidas that none of this seems like a stunt. Radcliffe has already proved himself plenty brave onstage, but his most notable accomplishment as Ginsberg is to portray the literary icon with such empathy that the loss of his virginity under the most sordid of circumstances still feels like a beautiful release. The shock of Kill Your Darlings is not in seeing Harry Potter go gay. It's the realization that sometime during those eight movies where we thought we were watching Radcliffe grow up, he'd already become a man.