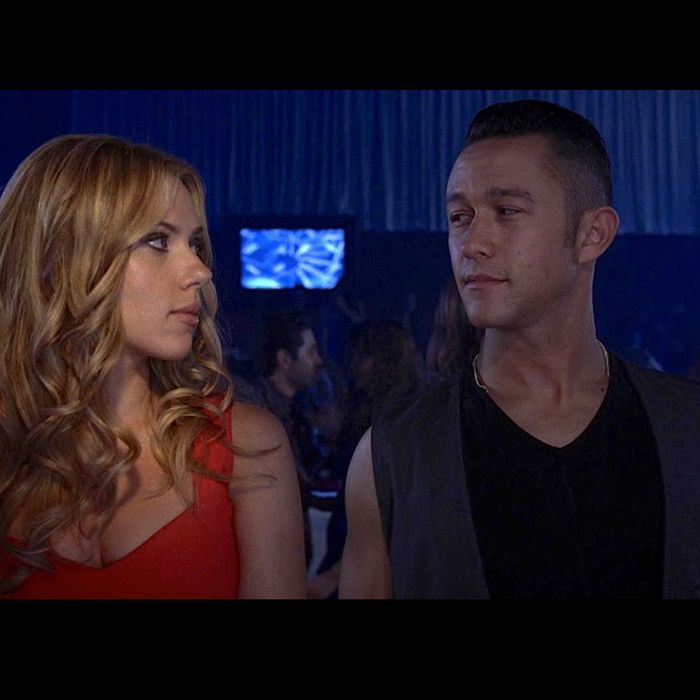 Photo: Thomas Kloss/Courtesy of Sundance Institute
If there's one thing Joseph Gordon-Levitt would like you to know about his Sundance directorial debut Don Jon's Addiction, it's that the film wasn't inspired by Jersey Shore … despite the fact that he cast himself as a bulked-up, waxed-down New Jersey guido whose main mission in life is to "smash" young hotties at the club. "It honestly wasn't!" he insisted to me after the film's crowd-pleasing premiere. "I mean, I'm aware of it, but I had never seen an episode of it when I wrote this." And since? "I've since watched an episode of it," he admitted, "but I could only ever get through one of them."
Still, you've got to wonder what the Situation might make of a film like Don Jon's Addiction, which takes that time-honored Saturday Night Fever narrative — a young guy on the make pursues his elusive dream girl (Scarlett Johansson), somehow growing up along the way — and slices it wide open. The movie opens with a hypercut montage of Gordon-Levitt's character masturbating to online porn, waxing ecstatic about "those tits, that ass, the doggie, the blowjob," and at first, you think it's just another symptom of his relentless skirt-chasing. Soon, though, the character confides in his narration that he prefers porn to the real thing, and when he's challenged by Johansson to ditch the pornhub.com time-wasters entirely, he finds out just how hard it is to be in the moment with an actual woman instead of jacking off to a three-minute fantasy.
But even there, the movie circumvents your expectations. Johansson's slinky Jersey girl tries to make Gordon-Levitt a better man, but she's actually steamrolling him, strategically withholding sex until she can mold him into the male lead of the rom-coms she's constantly watching. (Gordon-Levitt called in favors from friends like Channing Tatum and Anne Hathaway — rom-com staples both — to appear in one of Don Jon's chick-flicks-within-the-flick.) It isn't until Julianne Moore appears as a wounded widow in Gordon-Levitt's night class that he learns what a real connection with a woman could be like.
The movie has already inspired plenty of conversation at Sundance, and when I caught up with Gordon-Levitt, Moore, and Tony Danza (who plays JGL's father) after the premiere, they had a lot to say about it, too. Of course, it's no wonder that three good-looking actors might find plenty to mine in a story about the perils of sexual objectification; the trio had just finished up a photo shoot, and "That's where it really happens the most," said Gordon-Levitt. "That's just pure objectification."
Continued the actor, "I think there's an important distinction to be made here, because you can view someone sexually without objectifying them."
Danza cleared his throat. "I objectify Julianne," he offered.
"Hopefully, in real life, you don't want to objectify or imprint your own ideas onto someone else, but in film? Sometimes, that's part of the deal," said Moore. "And then we get back to the movie: What expectations do we bring to relationships that are not real, that are based on images we've seen? That's where you get into trouble."
"And I find that shit hilarious!" shouted Gordon-Levitt. "People who have those expectations always makes me laugh. It can be sad and it can ruin relationships, but to me, it's head-slappingly funny. That's where the idea for the movie came from."
And who picked the porn clips that are liberally sprinkled throughout Don Jon, and earn every bit of the film's sure-to-be-restricted rating? "Oh, I did that," teased Moore.
"Good job, Julianne," said Danza. "Really wonderful."
"Thank you very much!" replied the redhead. "It was all from my personal library."