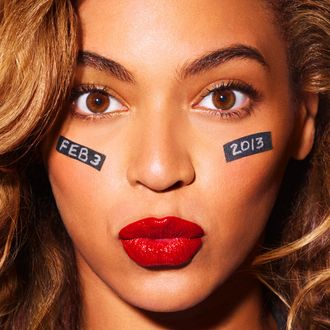 It's Sunday afternoon — your last chance to read all that stuff you meant to read last week before Monday brings a new deluge of things you will want to read. Below, some of our recommendations:
"Miss Millennium: Beyoncé," by Amy Wallace (GQ): The Queen Bee's on a mad dash post-baby comeback, and there's still her all-things-Beyoncé HBO hagiography to look forward to.
"In a Fragmented Cultureverse, Can Pop References Still Pop?" by Neda Ulaby (National Public Radio): At least we're not alone in admitting we don't always get those obscure Saturday Night Live references.
"Candace Bushnell's Fantasy World, Starring Candace Bushnell," by Edith Zimmerman (The New York Times Magazine): Little Carrie Bradshaw is newly back on television, but her creator has moved on to fancy holiday homes and a spread in Equestrian Quarterly.
"TV's $200 Million Charlie Sheen Experiment," by Lacey Rose (The Hollywood Reporter): Because you're not totally sick of Charlie Sheen yet, here's a reminder of how he (and the geniuses behind FX's Anger Management) are still raking in more money than God.
"For Amusement Only: The Life and Death of the American Arcade," by Laura Jane (The Verge): A beautifully rendered reminder of what arcades were like in their heyday — all clanging pinball machines, unwashed teenagers, and "No Moms Allowed."
"The Only Black Guy at the Indie Rock Show," by Martin Douglas (MTV Hive): The author explores the complicated world of racial and musical stereotypes, and why blurring the lines between them just makes sense.
For more in-depth weekend readings, visit our friends at Longreads.