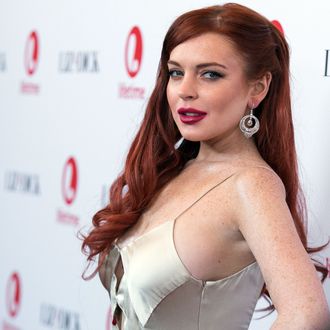 It's Sunday afternoon — your last chance to read all that stuff you meant to read last week before Monday brings a new deluge of things you will want to read. Below, some of our recommendations:
"Here Is What Happens When You Cast Lindsay Lohan in Your Movie" by Stephen Rodrick (The New York Times Magazine): The title is self-explanatory, and the content is both what you'd expect and, somehow, so much more.
"The Holy or the Broken" by Ryan Dombal (Pitchfork): How Leonard Cohen's "Hallelujah" — which you know from either 1984's Various Positions, Jeff Buckley's Grace, Marissa's death on The O.C., or Adam Sandler's parody at December's Hurricane Sandy benefit concert, depending on how old you are — became a cultural touchstone.
"The Lion Smokes Tonight" by Drew Magary (GQ): Hanging out with the Rasta-dude formally known as Snoop Dogg.
"George Saunders and Andy Ward" (Slate): An author-editor interview about authoring, editing, what might just be the best book of the new year, and hard work.
"Becoming Story: The State of the Memoir" by J. Nicole Jones (LA Review of Books): Memoirs get a bad rap, but it's just the bad ones that are the problem.
For more in-depth weekend readings, visit our friends at Longreads.