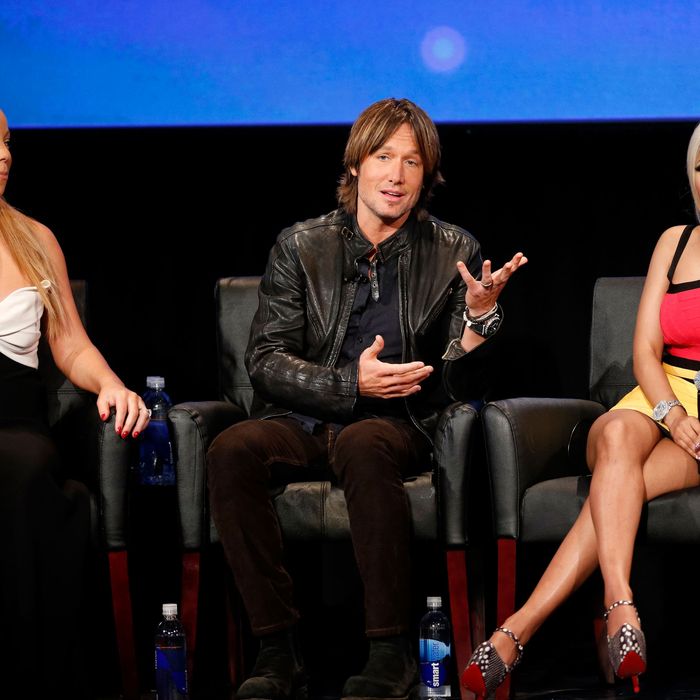 Photo: Imeh Akpanudosen/Getty Images
As TMZ legend has it, Mariah Carey was told that she would be the only female judge on this season of American Idol. Upon learning that Nicki Minaj had also been hired, Mariah reportedly hung up the phone in disgust. The team spirit did not improve from there. Mariah's camp started leaking stories about how angry she was and how much more she was being paid ($18 million to Minaj's $12 million); the catfight narrative was firmly in place before the audition rounds even started. If you are looking to point fingers in the Great American Idol Diva Feud of 2012–13, start with the producers who pitted the women against each other, or Mariah herself, whose bad, entitled attitude set off Minaj in the first place. Put another way: Stop blaming Nicki.
You'll remember the leaked audition tape, in which a clearly provoked Nicki Minaj screams crazily (that's her own word) at Mariah Carey. It was admittedly not Nicki at her bubbliest, and phrases like "I'm not fucking putting up with her fucking highness over there" do not win you Miss Congeniality awards. But Nicki didn't punch anyone; she didn't quit the show. No one heard Nicki make any of the absurd gun threats that Carey alleged and then forgot to mention again (except to Barbara Walters, who reported the story as fairly as a kindergarten mother trying to clear her child of a juice spill). It was just some yelling! People do that on reality shows all the time.

Or they don't, and judges' panels become dreadfully boring, as none other than Britney "You're Amazing" Spears taught us so recently on The X Factor. That was a living legend on the stage, and she put everyone to sleep with her platitudes. ("You're adorable." "You're unbelievable." You're a robot.) As the programming decisions of MTV, E!, and Bravo remind us hourly, America does not want to watch celebrities play nice. America wants to watch celebrities be celebrities — to cry extra-beautifully, or tell some overwrought story about getting discovered while singing "Who Will Save Your Soul" in an eighth-grade talent show, or to get so invested in the mini-version of Ke$ha that tattoos become involved. If they should start heckling one another in the process, well, that's just good television. The wall-to-wall coverage of the Nicki-Mariah feud proves it.

So do not be swayed by Mariah Carey's faux safety campaign; do not let the original diva convince you that the Idol table is too crowded and that everything would be so much more civilized if Nicki Minaj would just leave. (It wouldn't; it would look like the Home Shopping Network.) Support Nicki Minaj! Support passionate debate! Support reality show judges who try. Otherwise, you'll actually have to listen to the singing.