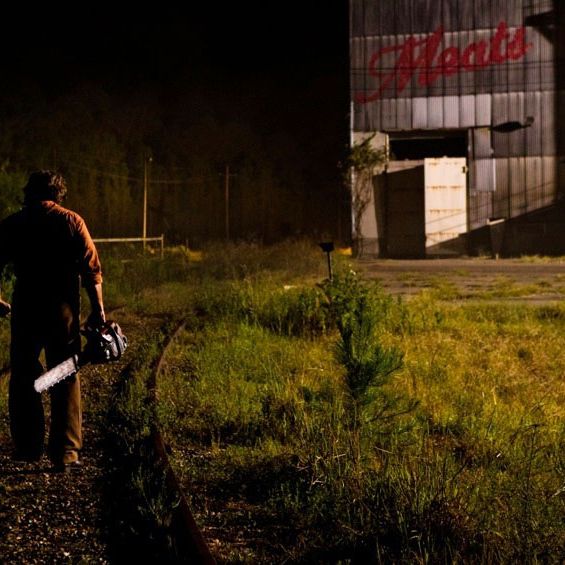 This Weekend's Winners: Texas Chainsaw 3D (No. 1 with $23 million) served as a firebreak against the raging bushfire of Django Unchained (No. 2 with $20 million), which gave up only a third of its audience this weekend and is likely to top the grosses of previous Tarantino high-water mark Inglourious Basterds next weekend.
This Weekend's Losers: The feature film directorial debut of The Sopranos creator David Chase has scored tepid critical reviews, and now truly abysmal grosses: Not Fade Away expanded into almost 600 theaters this weekend, but took in just $280,000. Similarly, Gus Van Sant's enviro-drama Promised Land (No. 10 with $4.3 million) made a weak showing despite starring Matt Damon and expanding to just shy of 1,700 theaters. Frack!
How It All Went Down: Michael Myers wears a William Shatner mask and rocks the kitchen knife; Jason Vorhees, a hockey mask and machete — but for real grosses (and gross-outs) there's really nothing quite like a disguise made of an actual human face on an inbred six-foot-six-inch cannibal wielding a two-stroke Poulan 245a, is there?
Unfortunately, no — to the horror of several rival studio executives who looked on in disbelief at the outsize Texas Chainsaw 3D grosses with a mix of revulsion and envy. "This movie was fueled by younger moviegoers," said one rival distribution chief at a major studio, making little attempt at concealing his disdain. "They won't come for Life of Pi, but they'll come out for this crap. What a sad statement."
Indeed, almost two thirds (64 percent) of the Chainsaw audience was under 25, and per Lionsgate's own internal data, a third of that under-25 crowd cited R&B star Tremaine Neverson as their principal reason for buying a ticket. (Trey Songz, time to call your agent!)
A second studio chief was more circumspect about the overperformance of a film derided both by critics and its own audiences (a C+ CinemaScore). "Honestly, if you are a 25 year old who has already seen Hobbit and Django," said this chief, "you haven't had anything to see for two weeks."
Meanwhile, speaking of The Hobbit, it continues to lag behind all other Lord of the Rings movies here in the States. "The short story is that Hobbit is clearly underperforming domestically," said one rival distribution capo. Consider: The Hobbit opened on almost 700 more screens than 2002's The Fellowship of the Ring, but is only at $264 million domestic in its fourth weekend, having just grossed $17.5 million.
By comparison, in its fourth weekend, Fellowship grossed $16.2 million (really $20.73 million when adjusted for inflation into 2012 dollars) and had reached a $228.3 million cumulative gross (which, again, when adjusted for inflation is really $292 million in 2012 dollars). Given the greater screen count of The Hobbit, the higher-priced 3-D ticket premiums, and the far greater awareness and anticipation of the franchise by its fan base, this is disappointing by comparison.
"The Hobbit is making money for Peter Jackson and anyone else with first dollar [gross participations]," said a second rival distribution chief, "but MGM and WB can't be too happy with this performance."
However, as one former New Line executive points out, the critical difference is that while New Line sold off the foreign [rights] to finance the Lord of the Rings movies, "in this case, Warners and their partner (MGM) are keeping the coin worldwide to themselves. And how they made the thinnest book into multiple movies is the gift that will keep on giving for them."
Or, as another rival exec noted simply, "Hard to be too rough on them — still may add up to a billion."