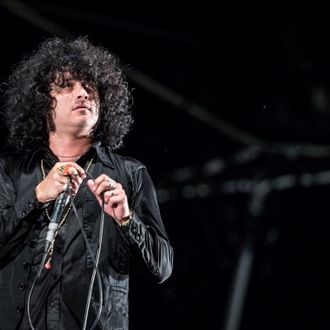 Mars Volta frontman Cedric Bixler-Zavala.
The Mars Volta's sixth and probably final LP, Noctourniquet, dropped in March 2012. In lieu of a corresponding tour, there was talk of a hiatus. Now it's officially over, per vocalist Cedric Bixler-Zavala, who broke off from At the Drive In with Omar Rodríguez-López in 2001 to form the psych-prog-jazz-hardcore-math-etc.-rock group. "I can't sit here and pretend any more. I no longer am a member of Mars Volta," Bixler-Zavala tweets. "Thank u 2 all VOLTA fans u deserved more especially after the way u rooted for us on this album. I tried my hardest to keep it going. But Bosnian Rainbows was what we all got instead." (Bosnian Rainbows is the latest musical venture for the brain-smashingly prolific Rodríguez-López, incidentally the Lennon to Bixler-Zavala's McCartney, or vice-versa.) "For the record I tried my hardest to get a full scale North American tour going for Noctourniquet but Omar did not want to. … What am I suppose to do be some progressive house wife that's cool with watching their partner go fuck other bands? We owe it 2 fans to tour." It's not all jabs, though — Bixler-Zavala simultaneously seems a bit misty-eyed over it all: "Thank u a million times over for ever giving a fuck about our band."
Omar's side of things, per an NME interview published hours before things went to Breakup Town? "It's been very strange being without Cedric. It's one of those bittersweet moments, it's great for both of us because he's making this great solo record, which is more of an acoustic thing. I'm really excited to hear another side of him and to work on music without me. He's composing all the music, playing all the instruments, literally doing everything himself, rather than just singing over the top of my songs." Yeah … maybe best for these two to have some alone time.