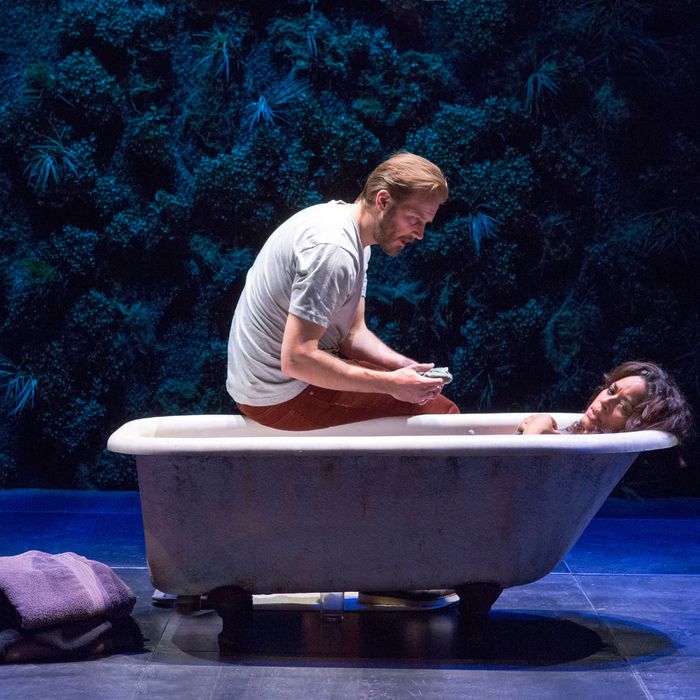 Photo: Richard Termine/? 2012 Richard Termine
I missed the first chapter of Quiara Alegría Hudes's Ortiz family trilogy, Elliot, a Soldier's Fugue, but my understanding is that it was, as advertised, fuguelike. A tight, contrapuntal narrative conceit linked the desert travails of Elliot, a Spanglish-slinging Marine from North Philly, to the analogous wartime experiences of his father in Vietnam and grandfather in Korea. Elliot (played once again by the marvelously animated, goofily charismatic Armando Riesco) returns for Hudes's rangy, riff-y, unapologetically self-helpful second chapter, Water by the Spoonful, winner of the 2012 Pulitzer Prize for Drama — but he's no longer the centerpiece. There is no centerpiece, Hudes announces early in the play, via a lecture from Elliot's cousin Yaz (Zabryna Guevara), an adjunct professor of music and the extended Ortiz clan's hometown girl made good. "The ugliness bore no promise of a happy ending," she tells her class, speaking of John Coltrane's transition from artful dissonance to aggressive cacophony. "The ugliness became an end in itself. Coltrane democratized the notes. He said they're all equal. Freedom. It was called Free Jazz, but freedom is a hard thing to express musically without spinning into noise."

Well, there's no danger of that here: Hudes — even when corralling disparate, loosely interrelated characters spread from Philadelphia to Sapporo, all while grappling with the atomizing effects of poverty and addiction on a close-knit family — clearly prefers the explicit to the mysterious, the harmonic to the dissonant, and, most of the time, the zinger to the poetic digression. But where her dialogue style is brisk and mitred, her storytelling is woolly: Water begins with the death of the Ortiz family matriarch, Elliot's beloved Aunt Ginny, then traces its effects on Elliot (still tormented by his experiences in Iraq), on Yaz (whose childless marriage to a wealthy white Main Liner is quietly dissolving), and on her sister Odessa (Liza Colón-Zayas), a former crack addict and Elliot's estranged birth mother. Odessa now runs an online support group for recovering addicts, where she uses the handle "Haikumom" and dispenses Zen wisdom to a picturesquely multiethnic klatch of fellow travelers, who've never met their moderator/den mother in the flesh. These include the young seeker Orangutan (Sue Jean Kim), middle-aged paper-pusher Chutes and Ladders (Frankie Faison), and wealthy Fountainhead (Bill Heck). This crew maintains a parallel story line — inspirational sorta stuff, flesh-and-blood connections in a digitized world, that kind of thing — with only minimal, last-minute overlap. Roger all that? 

Hudes's snappy, expository dialogue doesn't really hold all of this together, but it certainly keeps it moving along at a sprightly half-gallop. Even at her clumsiest — and there's detectable clumsiness in Water — she's a consumable writer who uses a highly contemporary, sleekly commercial voice to illuminate some dark corners. (Credit is due Davis McCallum, who also directed Elliot, for his mostly fuss-free balance of the literal and lyrical.) And if Hudes's flashbulb is so flat and saturating that it washes out a few nuances? That's clearly a risk she's comfortable running. Her outlook is boldly positive, and she derives an indomitable energy from situations that skirt (or swan-dive into) melodrama. Her beats and badinage certainly give her actors plenty to hang their hats on. "You know what a carnation says to the world?" says Elliot, critiquing the flower arrangements on offer for Ginny's funeral. "That they were out of roses at the 7-Eleven." Half of Water takes place in cyberspace, where quippage and bumper-sticker-ese are coin of the realm. Every once in a while, Hudes drizzles a little lyricism over everything: "I want to grab the sky and smash it into pieces!" "I'm a baby in a basket on an endless river." It doesn't help when these reveries are delivered by ancillary figures blown up to lead-size (e.g. Orangutan) or by Yaz, the most inexpertly developed principal character. (The survivor's guilt of an assimilated, overeducated woman who seeks a return to the poor family she's almost but not quite left behind … that probably deserves its own play, and may get one. Here, Yaz functions as a kind of connector Lego, a custom-cut combination of narrator and author-avatar.) Emerging from this tide of major key harmonies is, once again, Elliot himself, and Riesco, whose performance is almost too big for the play — making it just about perfectly proportioned. Sometimes the only way to transcend the noise is to yell a little louder. 
Water by the Spoonful is at the Second Stage Theater through February 10.