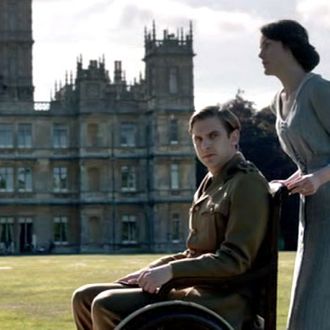 Get it? "Pushy" questions! Wit!
Photo: PBS
Downton Abbey returns in four days, and according to our critic Matt Zoller Seitz, everything is back in its proper place after having been flip-turned-upside-down during last year's popular, if super-soapy, upswing. (If Matthew whines about dearest dead Lavinia one more time … ) However, before we move forward with the further adventures of the Crawley clan, there are three outstanding issues with the show that needed clearing up. To get some answers, we broke the rules of decorum and asked executive producer Gareth Neame to settle such nagging questions as why Americans must wait to see more episodes until the Brits have politely dined on them and retired to the drawing room, and just why things went all soapy last season.
Why doesn't Downton air simultaneously in the U.K. and U.S. (so that we may avoid horrible spoilers of the Christmas-ruining variety)?
The producers took extra precautions to prevent the secrets and twists of season three from spilling; paparazzi-blocking security was added to location shoots, and scripts were marked with code names. So if Neame had his way, U.S. audiences would get to share in the first viewing. "In this day and age, it's clearly ridiculous that people watch the show in England four months early and 1.5 million people in America go and watch it illegally," he said. "If I were PBS and I had the biggest drama I'd ever had in my entire 40-year history, I would be sorting my schedules out to make sure I was airing it more quickly." PBS didn't shoot down the idea of airing future seasons of Downton earlier, but said "technical hurdles and financial considerations" have prevented it in the past. And by airing in January, PBS avoids having to compete with the glut of new shows that the broadcast networks premiere in the fall. "Obviously, spoilers and piracy are two key reasons supporting the case to air Downton Abbey closer to the U.K. broadcast," a rep for Masterpiece told Vulture. "The conversation about scheduling will continue."
 
Why wasn't season two as great as the first?
Although it broke ratings records, the period drama took a beating from critics when it sent its carefully drawn characters whirling into daytime soap territory. Neame suspects viewers were just not ready to call the melodrama by its name. "I think a lot of people watched the first season and thought it was a stand-alone costume drama. I don't think a lot of them realized they were watching a soap. Then in the second season, people went, 'Hang on, this is a soap!' and slightly objected to that," he said. On the other hand, things got pretty loopy. As if the war wasn't enough of a dramatic interloper, last season introduced his-and-her villains Sir Richard Carlisle and Mrs. Bates, teased the idea of Lord Grantham cheating on Cora, saw Matthew become paralyzed and then miraculously heal, and kept him and Mary largely apart with silly secondary love interests. "Of course, a thing like Matthew walking again or the disfigured guy who appears saying, 'I am actually the long lost heir,' is all soap opera stuff. It's why we get massive ratings," Neame said. "Those few areas we got criticism over ironically are precisely the very things that make it highly successful." Still, season three scales back most of the histrionics and keeps story lines closer to home, like the arrival of Cora's very American mother (Shirley MacLaine) and the family's financial troubles raising the possibility of losing Downton.
 
Why are key actors itching to bolt early? Why haven't they been tied down to longer contracts?
Unlike in the States, where actors are typically signed to six-year contracts, Brit TV initially just locks the cast in for three seasons. So when rumors began swirling that Dan Stevens did not want to stick around for season four — rumors that were confirmed last week — he wasn't making an outrageous choice contractually like David Caruso bolting NYPD Blue early (or, to a lesser degree, Rob Lowe leaving The West Wing). And many in the cast have seen their careers skyrocket because of Downton's success. Michelle Dockery is shooting the thriller Non-Stop opposite Julianne Moore and Liam Neeson, and Joanne Froggatt just filmed Filth with James McAvoy and Jim Broadbent. Some turnover is inevitable, Neame said. "Eventually, certain actors will want out of the show." All producers can do is try to talk them into sticking around, and should a performer insist on leaving, as was the case with Stevens, then the team hunkers down to figure out how to make an exit work for the story. "You have to look at it this way," Neame said, "when actors decide they want out of the show or they don't want to renew, rather than sit there and cry about it, you have to see it as an opportunity and go for it." Fellowes was given enough notice to write a big exit for this season's departure.