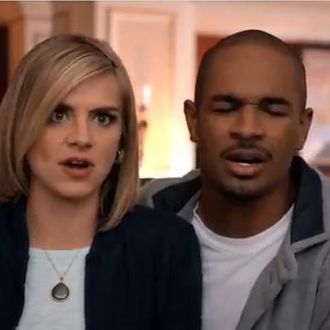 Fans of Happy Endings, you now have permission to start freaking out. Last night, the ABC comedy began airing the first of several Sunday episodes, and a predictably tiny same-night audience of just 2.6 million viewers tuned in to watch. (And no, the demo number wasn't any better: Happy pulled a meager 1.0 among viewers under 50). How bad was it? Well, this was the least-watched episode of the series ever, with even fewer viewers than the random leftover first season episode of Happy ABC burned off in late August 2011 (that half-hour drew 3 million viewers).
Additionally, Happy lost nearly two-thirds of the audience watching Revenge at 9 p.m. The pathetic performance isn't shocking: 10 p.m. comedies have hardly ever worked on broadcast TV, and ABC didn't lift a finger to promote the "bonus" episodes. At this point, it wouldn't even be surprising if the network opted to pull the Sunday episodes of Happy (and the even lower-rated Don't Trust the B—- in Apt. 23). But as awful as things are looking for Happy right now, there are a few glimmers of hope.
First, the show is a co-production of Sony Pictures Television and ABC Studios. Sony executives have developed a reputation for refusing to let their shows die. Sony kept the Brad Garrett stinker Til Death alive on Fox for four seasons and struck a deal with CBS to bring back drama Unforgettable next summer even after the Eye had canceled the series. And while Community fans may never forgive Sony for firing Dan Harmon, the studio did it in order to give the show a fighting chance to survive on NBC (where Harmon was decidedly not beloved). About 50 episodes of Happy will be in the can by the end of its current season, a number that's tantalizingly close to the roughly 80 or so needed for a lucrative off-network syndication run. Because Sony and ABC are partners in production, both companies stand to benefit from the show making it to the afterlife of syndication. Will this be enough to convince the Alphabet to keep Happy despite the disappointing numbers? Maybe! But … probably not: The network dumped Cougar Town, even though it wholly owns that series and has much bigger auspices behind the camera (Bill Lawrence) and in front (Courteney Cox).
And while NBC executives have kept low-rated comedies such as 30 Rock and Parks and Rec on the air because its executives wisely realized they had bigger problems to deal with (and a comedy brand to try to maintain), ABC executives don't really think the network is in bad shape, even if it's very likely the Alphabet will finish in fourth place this season. Of course, ABC is in trouble: This week, an episode of Chicago Fire on NBC drew a bigger demo audience than the supposedly big ABC hit Revenge. While Happy Endings is not going to be the show that turns things around for ABC, if properly scheduled and promoted, it could be a decent buoy to help keep the network afloat as it tries to build its comedy brand on a night other than Wednesday.
If ABC does bail on Happy, it's almost certain Sony and ABC Studios will try to find a buyer for the show — either a cable network or a streaming-video service. TBS has shown a willingness to pick up ABC rejects (if you haven't set your DVR yet, Cougar Town debuts Tuesday at ten on the cabler). The young, kinda female audience that likes Happy could be a good match for TBS, but it's a bit of a long shot. All network executives have egos, and picking up a second rejected network show might be too much to expect from the folks who run TBS. What's more, Happy doesn't have a big star such as Cox, making it tougher to promote. Still, the show does have a devoted (if tiny) audience and lots of media buzz. And that could make it perfect for a streaming-video service such as Netflix or Amazon Prime. The former might not want to rescue another network show before it sees data from this spring's relaunch of Arrested Development. But Amazon Prime is in expansion mode: Happy is exactly the type of hip, current half-hour that could help convince folks to spend an extra $79 a year for the service. All of this is just speculation, of course. And possibly wishful thinking. Good shows die all the time, after all. Like Tyler the Parrot, there may be no happy ending for Happy Endings.