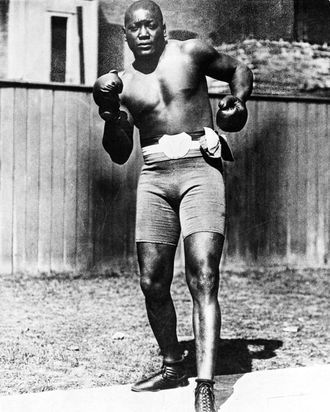 Shown in a fighting pose is Jack Johnson former heavyweight champion of the world. Undated photo, filed 6/11/1946.
Photo: Bettmann/Corbis
Ken Burns and Tom Hanks are teaming up for an HBO biopic miniseries about legendary boxer Jack Johnson, the first black man to be the world heavyweight champion. Ides of March screenwriter Beau Willimon is writing the screenplay, with Hanks and Burns producing, and Burns directing, Deadline reports. Burns previously directed a Johnson documentary miniseries, Unforgivable Blackness, which aired on PBS in 2005. This new miniseries will be in four to six installments, because the marriage of meticulous historical accuracy, intense sports drama, and the saga of American racism takes time.