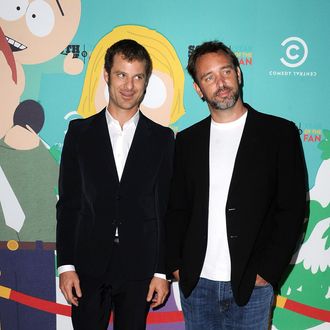 Trey Parker and Matt Stone: business men.
Photo: Frazer Harrison/Getty Images
Matt Stone and Trey Parker have launched their own production company, Important Studios. With revenue coming in from The Book of Mormon and South Park, the company's value is estimated at $300 million. Stone and Parker released this statement: "Having worked with several different studios over the years, we came to realize that our favorite people in the world are ourselves." Their intention is to have greater control over all of their projects. First up: adapting The Book of Mormon for the big screen. Second up: adapting Orgazmo for Broadway?