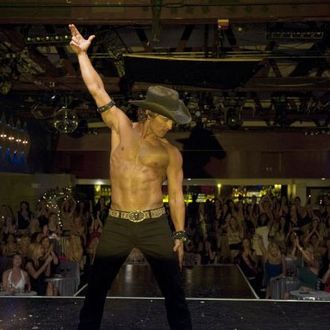 For fans of relatively current music and/or shirtless Matthew McConaughey, this year's Best Original Song category was extra-promising: The list of eligible artists included Fiona Apple (for "Dull Tool," from This Is 40), Rick Ross (for "100 Black Coffins," from Django Unchained), Katy Perry (for "Wide Awake," from her 3-D bio fiesta), and McConaughey himself (for his Magic Mike love song, "Ladies of Tampa" )! Certain individuals may or may not have had visions of a sweaty, yellow-spandex-clad McConaughey giving Rick Ross an Oscars lap dance while Fiona delivered an eloquent Seth MacFarlane rant and K.P. shot sparklers out of her custom-made Oscar bra. Certain individuals may have started letter-writing campaigns in support of this dream.
But in a crushing blow, the Academy nominated exactly none of the aforementioned songs — not even the Top 40–approved "Wide Awake" or the easy-listening "Ladies of Tampa." No, they went the predictable route, with Adele's Bond theme (no disrespect to Adele) and the boring new Les Misérables song. The full list:
Best Original Song
"Before My Time," Chasing Ice
"Pi's Lullaby," Life of Pi
"Suddenly," Les Misérables
"Everybody Needs a Best Friend," Ted
"Skyfall," Skyfall
So instead of Matthew McConaughey, you will get Seth MacFarlane serenading himself via talking bear. Let's just hope the bear does not attempt a lap dance.