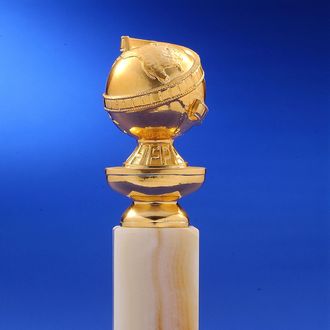 Photo: Getty Images/Hollywood Foreign Press Association
The Golden Globes are Sunday night, and we're mostly excited to watch Tina Fey and Amy Poehler. (And to kibitz about the clothes.) But while the Globes mark some kind of rite in the movie awards season, TV is a different story. The TV side of the Golden Globes is hilarious and wild and bizarre, almost completely removed from any kind of compelling legitimacy. It's an enchanting distortion of general critical consensus. It's the oddly mistranslated slogan on a knockoff T-shirt; not wrong wrong, per se, but not right exactly. Given how self-serious entertainment awards can be (is acting brave? really?), the TV half of the Golden Globes is a delicious antidote. You know what, let's nominate Hayden Panettiere for more things. Who cares! The world is improbable!
We don't even have to go back to the Globes dark ages, though those were plenty strange. Even since the nineties, when modern awards culture started to take hold, the Globes have been a source of periodic surprise. In 1996, Party of Five won best drama — beating ER and NYPD Blue, both in their primes. Hey, everybody wants to live like they wanna live. (NYPD Blue took home the Emmy that year; ER won the next.) The X-Files won in 1995, 1997, and 1998. And what beat The Sopranos, Deadwood, Lost, and 24 in 2005? Nip/Tuck.
On the individual front, things are still full of the unexpected. Kelsey Grammer won best actor in a drama for Boss last year. Matt LeBlanc won for best actor in a comedy for Episodes. Anna Paquin won for True Blood in 2009. Jennifer Garner won for Alias in 2002. Keri Russell won for Felicity in 1999. Laura Linney won for The Big C in 2011. Again, it's not that these are bad choices or completely shockingly offensively wrong — but they are strange choices. They're not Emmy choices, or even really fan choices.
And it's all great because when the Emmys and the Globes overlap, it's boring. I'm practically rooting for The Newsroom to win this weekend, just for the upset factor. Modern Family doesn't need another award — but Smash sure does. They give out Golden Globes for absurdity, right?