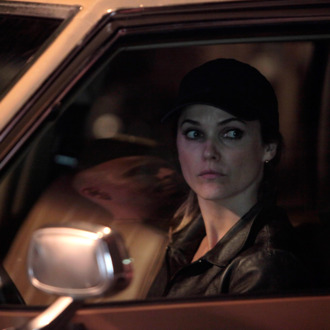 Photo: Craig Blankenhorn/FX
Break out the borscht and raise a glass of Stoli: FX's Cold War drama The Americans is off to a (relatively) hot start in the Nielsen ratings. Wednesday's 98-minute premiere drew 3.2 million viewers, a tick higher than the premiere of the network's American Horror Story. Among FX's target audience of viewers under 50, The Americans averaged a 1.2 rating — about 20 percent below the 1.6 AHS averaged when it bowed in 2011. FX chief John Landgraf issued a statement saying he was "very happy" with the debut numbers, also pointing out that he expected ratings for The Americans to rise substantially once DVR playback gets factored in. While the initial numbers for the show are good, it's worth noting that, despite FX's very impressive marketing campaign, The Americans still attracted about 500,000 fewer viewers in the 10 p.m. time slot than Discovery's* latest redneck hit, Moonshiners. I guess the hillbillies love their children, too.
*An earlier version of the post incorrectly gave credit for Moonshiners to A&E.