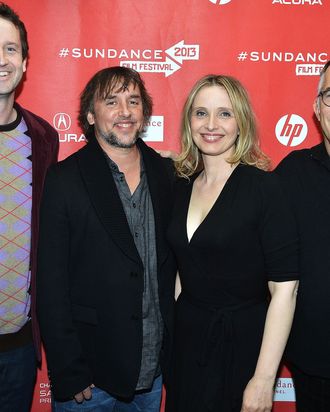 Photo: George Pimentel/Getty Images
Last night in Park City, Vulture caught up with Richard Linklater on the eve of his Before Midnight premiere. (The director had just come back from spending the day in the ER — his assistant had hurt herself in a snowmobile accident.) We theorized that, after nineteen years of studying relationships in his trilogy of Before films, he might be something of an expert in what it would be like to date a creative type. (Ethan Hawke's Jesse is a novelist.) "You see what it would be like to be in a relationship with a guy that is a writer," Linklater said. "It's a little bit of a tax, you've got to listen, is that still interesting? Or is that boring yet? Are you still interested in talking?"
He said he'll occasionally give advice to his 19-year-old daughter, though he's not sure it's any good. "My daughter's got a crush on a guy, and I'm trying to actually manufacture something because I like the guy. Like a lot of dads, when you have them as sitting ducks in the car, I might theorize about what makes a better long-term partner than a short-term partner, and I don't know if any of it goes in." We got curious as to what Richard Linklater would tell us if we were sitting in the back of his car.
So, what's your theory on relationships? Do people lose interest in each other?
Yeah. That's what the movie is just about. And I don't think there is any silver bullet, as they say in the gun-control battle. More mystery, more questions maybe. No overarching theories. It gets a little more mysterious.

So what makes a good long-term partner? We are both trying to figure this out. Is the trick intellectual compatibility?
That's a pretty good one. We've created Jesse and Celine in this fictional context, and there's something kind of wonderful and hopeful about them, that they are talking. I don't pretend to have cracked that 100 percent myself. I like my fictional couple that I've created.
What about dating writers, directors, and actors?
Probably a couple of grades lower than the average for stability, in the long term. You just kind of have to assume it's a disaster. Anything above that would be a bonus. I think a director is potentially more stable than an actor. That's just my opinion.

Writers?
I think a writer or director could be more stable, but no less neurotic, necessarily. A director has to portray some stability, whether he's faking it or not. Whereas an actor sort of doesn't. That's why they pair off themselves often.

Prop guys?
That's probably a better bet. I think a prop guy could be good.

Set guy?
That's good. Another one is a good camera operator. That's the way to go. Yeah, Julia Roberts knew what she was doing.
Producers?
Producers — that's a total wild card. That can go either way; they're just as likely to be a psychopath as anybody else probably.