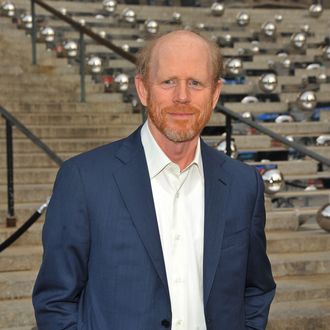 Ron Howard is circling Warner Bros.' In The Heart of the Sea, a nineteenth-century drama based on the eponymous National Book Award winner by Nathaniel Philbrick. The film already has Chris Hemsworth attached to star as a first mate aboard the Essex, the doomed ship whose encounter with a whale inspired Herman Melville's Moby Dick. Insiders tell us that Howard is not yet committed, but things could go that way soon.
If you're confused, don't feel badly, because Howard has been in the headlines an awful lot lately: Earlier this week, news came that Howard had attached himself to Neil Gaiman's kiddie bestseller, The Graveyard Book. And just last week, Vulture broke the news that Howard had come aboard All I've Got, a drama based on a decade-old Israeli TV film Kol Ma She'Yesh Li that J.J. Abrams's Bad Robot is developing as a theatrical feature at Paramount.
But both of those are projects that lack developed scripts and top on-screen talent that's attached and ready to shoot. In the Heart of the Sea has both (it is written by Blood Diamond's Charles Leavitt) and so would be a far more near-term project for Howard, all the more so now that Warner Bros. is stepping in to finance the picture, which we hear could go into production later this fall.
While we must be clear that the talks with Howard are nascent, the fit would seem to make sense: Howard is currently posting Rush, a biopic about Formula One driver Niki Lauda and his rivalry with his English rival James Hunt – a role played by Hemsworth.
The project would likely be an enormously expensive undertaking, for the only thing riskier and more expensive than shooting a period film is shooting on the water; In the Heart of the Sea is a film that does both.  (Even today, the disastrous Waterworld is still referred to as "Fishtar" by Universal studio executives.) As such, Warner Bros. might still want to find a studio with which to co-finance such a whale of a film. But but for now, it seems full steam ahead.