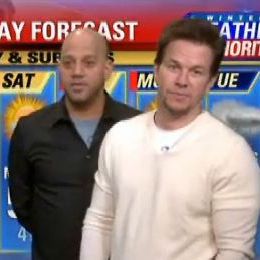 Last spring, we pointed you to a video cavalcade of celebrities giving TV meteorology the old college try: What better way to ingratiate yourself (and your upcoming project) to locals than to goofily deliver the weather report on the news? It's ideal because making a hash of the Doppler is comedy gold — and if you get it wrong, nobody gets hurt; they only get wet. But there were only so many misidentified occluded fronts that one blog post could handle, and when Mark Wahlberg delivered the weather forecast recently in Philadelphia, it reignited our need to find out which other famous folks have gone full Roker.
Mark Wahlberg stepped onto the set of Good Morning Philadelphia this month to help deliver the forecast and also to possibly show off his muscles. Because they are huge. Even the show's actual weatherman can barely escape the shadow of Wahlberg's brawn. Although, to be fair, we would've been even giddier if he'd channeled Marky Mark and dropped some dope meteorological rhymes.
Prince Charles: During a visit to BBC Scotland in May last year, the prince of Wales gave the lunchtime viewers a bummer of a weather report for the region: "cold, wet, and windy." Ah, so that's what a trip to Scotland is like with Prince Charles. We'll sit this one out, thank you very much.
Ellen DeGeneres: The talk-show maven dropped by NBC Chicago in May 2010 to plug her TBS special, and the usually cool comedienne seemed a little frantic in front of the green screen — which was in fact a green screen, as she informed viewers. Secret's out, meteorologists everywhere!
Kathy Griffin: She didn't have to venture too far to deliver the weather on KTLA. On set in April 2011 to discuss the royal wedding, Kathy didn't really get a feel for how the whole thing worked, but she did effectively remind us that gay guys love flipping houses. So if you didn't already find her cloying, that tired one-liner should do the trick.
Scarlett Johansson: While promoting Hitchcock, ScarJo took the Today show reins from Al Roker, who came down with a case of laryngitis. Can this be a permanent move? Or can we at least quietly give her Willard Scott's gig?
Jeff Tweedy: In December of 2011, the front man of Wilco claimed a seven-day forecast was "kind of optimistic to me." He was also labeled "the hairy weatherman" (because of the beard, we assume?) and couldn't come across as more uncomfortable. And we love him for that.
Coco: The reality star and wife of rapper Ice-T bravely filmed herself on her New Jersey balcony in the eye of Hurricane Sandy. Why, we couldn't tell you, but we're sure glad it happened and that she's safe and sound so that we can expect more bizarre stunts like this in the future.