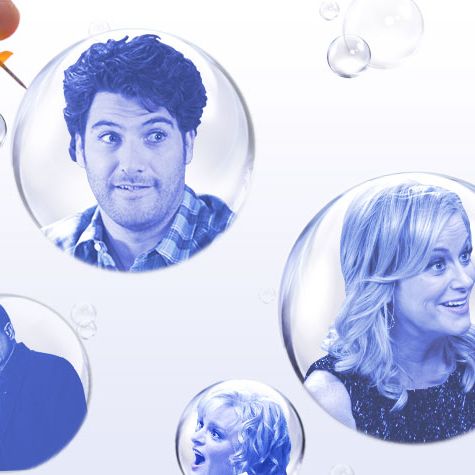 Photo: FOX, ABC, CBS and NBC
The sudden yanking off the TV schedule of Don't Trust the B—- in Apartment 23 and Ben and Kate had one tiny upside: At least now fans won't have to suffer anymore wondering what will become of their shows. Such is not the case with a couple dozen other new and veteran series, so-called "bubble" shows whose ratings haven't warranted cancellation but aren't so undeniably amazing that renewal is inevitable. As has become tradition 'round these parts, Vulture has assembled a list of the shows in various stages of limbo. After crunching the Nielsen numbers and studying the scheduling grids, we ran each of the shows though our world-famous Bubble Meter (now with retina display!) and arrived at a final score representing their odds of survival. A perfect score of ten means the show's return is as much of a slam dunk as NBC's breakout hit Revolution; the lowest rating of one represents a death as certain as that of the aforementioned Ben and Kate.
Before you click through the ratings, some explanatory notes: We don't include the shows that have already been renewed or, as has been more common this season, already canceled. (Hence no Animal Practice or Mob Doctor.) Long-running series whose ratings and contractual status are such that renewal is a formality are also absent (ergo, no Modern Family, New Girl, or NCIS). Ditto first-year series whose pickups are also slam dunks, though there are just two of those this season: NBC's Revolution* and CBS's Elementary. We also skip the CW (it has its own unique set of ratings standards); reality shows (they're never really dead); and Fox's animated shows, since they're produced far in advance and can end up on the air long after production has halted. (That said, industry insiders believe The Cleveland Show is not long for this world.) Finally, we're not including perennial bubble show Rules of Engagement or NBC sophomore Smash because neither series has had its season premiere yet.
* This post has been corrected to note that Revolution is on NBC, not Fox.