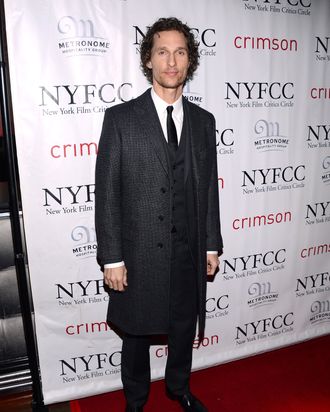 Skinny Matthew McConaughey.
Photo: Stephen Lovekin/Getty Images
After twenty years of making movies, Matthew McConaughey was finally invited to become a member of the Academy of Motion Picture Arts and Sciences last year, which means that he got to cast votes for this year's Oscar nominees (who will be announced tomorrow). That must have been a little difficult, since McConaughey himself gave four extraordinary performances this year, two of them in lead roles (Killer Joe and The Paperboy) and two as a supporting actor (Magic Mike and Bernie). Plus, he's up for Best Original Song for "Ladies in Tampa." Not that he'd ever vote for himself, of course … or would he?
"I didn't feel like I shouldn't nominate myself," he told Vulture, with masterful coyness, when we ran into him Monday at the New York Film Critics Circle Awards. "I feel like I'm objective enough to look at a performance I did and not see myself, to say what I thought about it, compared to others. That might be a lie, but I think I can!" Okay, so did he in fact vote for himself? "I'm not going to tell you who I voted for," he said, smiling very widely. "I can say it was kind of a riddle: What do you do now? I loved Philip Seymour Hoffman in The Master, and I was like, 'Damn! He's my favorite actor.' Oh my God, he killed it there." Decisions, decisions …