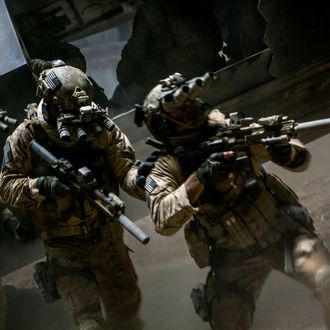 In the darkest hour of the night, elite Navy SEALs raid Osama Bin Laden's compound in Columbia Pictures' ultra realistic new thriller from director Kathryn Bigelow, about the greatest manhunt in history, ZERO DARK THIRTY.
Photo: Jonathan Olley
So far, Mark Boal and Kathryn Bigelow's film has earned plaudits, four Oscar nominations, anti-torture screeds, and a respectable box-office ranking, given its previously limited release. But, now that it's in theaters nationwide, ZDT is in first place, having brought in $24 million weekend. (Interesting tidbit: ZDT's "#1 theater in the country Friday," reports Deadline, "was just minutes from CIA Headquarters in Langley, VA.") R-rated comedy A Haunted House came in second, with $18.8 million, while the Ryan Gosling-Sean Penn-Emma Stone feature Gangster Squad underperformed with less than $17 million. Wrapping up the top five are Django Unchained and Les Misérables, which no doubt got a boost form its whopping eight Oscar nods.