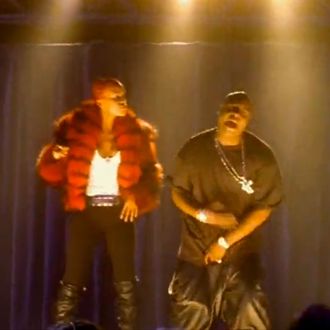 Heads up: There's a bass-infused Internet meme happening right now that will eventually wiggle its way onto your computer screen. It goes by the name "Harlem Shake," taken from an early-eighties, shoulder-popping dance move that started in Harlem. But this Harlem Shake is not that at all. These videos feature a backing track by Baauer, a.k.a. electronica producer Harry Rodrigues, and show, at first, a single person jerking to the beat before cutting to an entire group of people dancing erratically (twerking, jumping, you name it) to the track. Problem is, no one's actually doing the Harlem Shake.
And that's really too bad, because the Harlem Shake is awesome, albeit incredibly difficult: a jerky twisting motion of the shoulders followed by the occasional brush-your-shoulders-off. It was originally called the "albee" because of its founder Al B, who called it "an alcoholic shake." The true Harlem Shake first broke out in G. Dep's "Special Delivery," but it also became a move much-loved by the formerly "lil'" Bow Wow. Wanna learn? Check out some of the best Harlem Shakes below. (And stop it with that fake-ass stuff already.)
G. Dep, "Special Delivery"
Signed to Bad Boy Records in 1998, G. Dep and Diddy took the Harlem Shake mainstream in "Special Delivery."
Shake Spotting: :21, :53, 1:03, 1:41 to 1:50, 2:03, 2:21, 2:46, 2:55, 3:47, 3:58
Lil' Bow Wow, "Take You Home"
Bow Wow is a huge fan of the Shake — you can pretty much spot it in all of his "Lil'" videos. But this one is the best because it features Mark "Mr. Cooper" Curry, who doesn't do the Shake, but still.
Shake Spotting: :48, 0:57, 1:10, 1:24, 1:41, 2:27, 2:34, 3:10, 3:38
Jadakiss, "Put Ya Hands Up"
Jadakiss loves pit bulls, boobs (here's your NSFW warning!), and the Harlem Shake.
Shake Spotting: 2:22, 2:41, 2:53
Apparently, you can't embed this video without showing one girl's breasts right off the bat. So watch here.
Eve, "Who's That Girl?"
Eve's not a Bad Boy, but she encourages the Shake like the finest of Harlem.
Shake Spotting: 3:15

Nelly and Kelly Rowland, "Dilemma"
Okay, this might be cheating, because Nelly's "Dilemma" doesn't quite featuring any actual shaking. It does, however, featuring a Harlem Shake shout-out worth noting.
Shake Shoutout: 3:26

Thank you to Jeff Rosenthal, Rembert Browne, and Steven Horowitz for their Harlem Shake expertise.