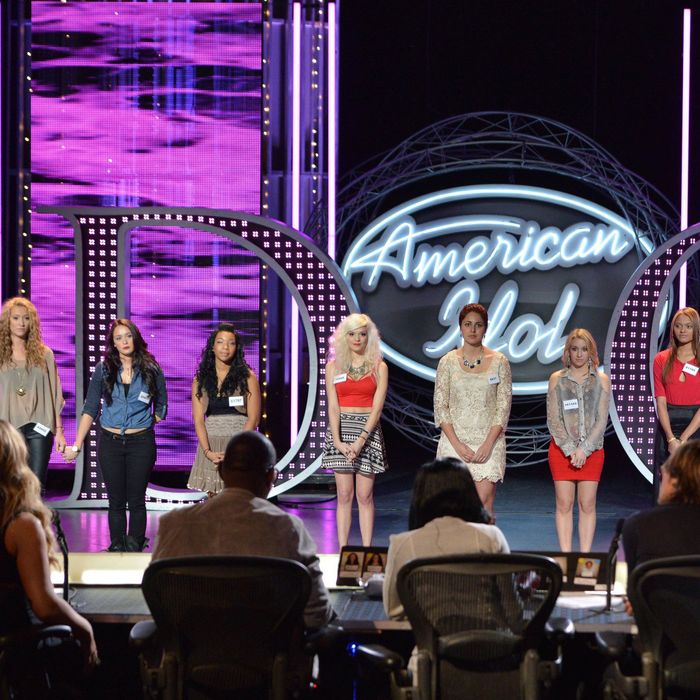 Photo: Michael Becker/FOX
BOY OH BOY is American Idol desperate for a girl to win this year. They open tonight's show by reminding you, in big red letters, that the last female winner was Jordin Sparks back in 2007, back when we were still fretting over our MySpace Top 8. Back during the Bush administration. Back before the White Boys With Guitars ruled the land. You can't blame them for wanting some variety, plus the ladies just tend to sell better. (With their collective tallies of zero, Taylor Hicks and Lee DeWyze have ruined the boys' average.)
The judges arrive in the Ford Escape Hybrids that you know they won't even look at, much less passenge in, and Randy bellows a lie right away: "Girls, if it's going to be your year, today must be the day." Not really; as it was last week with with the fellas, 47 girls remain, and tonight it must be narrowed down to 20. So, yes, Randy is technically correct in that the females will have to sing well, but at the end we're going to have a top 40 that's split evenly between boys and girls no matter what happens. Randy Jackson is an exclamation point in search of a coherent sentence.
This is our final solo round, in which each singer must perform one last song with the band. The stakes are high like they always, always are. Angela Miller opts for an original, which is a gamble, but as gambles go, "the judges might be sick of hearing Jar of Hearts" is pretty safe. And indeed, she puts some Ingrid Michaelson stank on her shockingly polished song and wows the judges and impresses me and sails through. Also she has caused the words Ingrid and stank to appear in the same sentence for the first time in history, so we can just shut it all down right now.
(Please, can we shut it all down right now? No? We're not even to the top 40 yet? Okay.)
Candice Glover does "Girl on Fire," and Janelle Arthur does some country song I've never heard, let's call it "Rooty Tooty Fresh N' Fruity," and even though Janelle ends on a shaky note, they're both judges' favorites, and they're both through.
Okay, so Zoanette Johnson is a loonball, but an endearing, enthusiastic loonball. Not a loonball who will steal your bike and sell it for Oxycontin like some people named Kez Ban who I could mention. Zoanette was going to sing a regular song, like people do, but she wasn't feeling it, so instead she's chosen to invent a song and try to teach it to the rest of the band on the spot, and the song is called "Ba Ba Ba Ba BA," and she'll be singing it and playing the drums, and I'll be damned if she doesn't pull it off. The best part is, she sings at length about Nicki and Randy, and then at the end she tacks on a perfunctory "and also there is Mariah." And then some more stuff about boo snaps (or whatever), and it's the most delightful thing I've ever seen on this show. Like, she loses a drumstick, she stops midway through to yell at the band for not knowing all the details of her imaginary song, she ends it all on a screechy Cephus and Reesie high note, and yet it all somehow works. For a very predictable show that keeps telling you how unpredictable it is, Idol has its first truly live wire in Zoanette Johnson, and though she stands very little chance of winning, I hope they never let her go. Make her the new host, guys.
Pretty much everyone they spend time on makes it through. They're accentuating the positive tonight, really letting you get to know the ladies who make the top twenty, while last week's boys passed by in a blur. They are trying to hypnotize you into voting for a girl. So welcome to the next round, Shubha Vedula, who sings "When You Believe," and Juliana Chahayed, who tries "Landslide." Randy is not so pro-female that he bothers to learn how to pronounce Shubha's name. He gets as close as "Scooby Doula," which makes me think of a clumsy Great Dane who assists in childbirth.
Freed from the pressure of Group Night, Kez Ban is no longer jerking and lurching like a ghost from a Japanese horror film, and is back to being a regular-type weirdo. She and Zoanette go to the mall in a disappointingly short package so Kez can spend some of those amateur-fire-performer stacks on some new performance clothes. Onstage, she opts for her "favorite original," and just in case you didn't already know this, Kez Ban has unusual taste. It's a curiously grim, short thing about flying on a cloud. It makes you think, Is this about heroin? Mariah gives it some expert side-eye in her best performance so far this season, Nicki tells Kez they appreciate her artistry, and then it's curtains for this suddenly kind-of-endearing oddball, who reveals that she only auditioned to make her Idol-fan mother proud. It's an unexpectedly tender moment from a woman I considered dangerously unhinged only 24 hours before. Good-bye, Kez Ban. If I ever sack up and go to Burning Man, I expect to see you there.
Also, a quick side note to the producers: How tonight's show wasn't a full hour of Zoanette and Kez Ban at the mall, with a ticker across the bottom of the screen telling us who made it to the top 40, is a frustrating mystery. Is this footage online anywhere?
On we go. Ashlee Feliciano marries Christina Perri's somber "A Thousand Years" with the worst and shrillest of Mariah's garage-door-opening vocal runs. It's gross, and it sends us into a montage of bummer songs. Only Melinda Ademi can bring the joy with a kicky take on Jessie J's "Price Tag." She whips her hair back and forth, she whips her hair back and forth, and she's exactly the ray of sunshine this competition needs, and just as you're getting up on your feet and remembering the joy of music, Kree Harrison reminds you that both her parents are dead and you're back on the sofa pressing your knees against your face. Melinda and Kree are through; Ashlee and the Bummer Chorus are out.
And then the remaining 24 must become 20, so 4 of the women who are still jumping for joy are about to get the rug pulled out from under them. The first three include my girl Lauren Mink, who got the axe at right around this time last year. And then Stephanie Schimel and happy Rachel Hale are put through a Battle Round, because this show is losing market share to The Voice. Rachel Hale wins it. Who wants to make her sad? I don't.
But there are still 28 guys who need to get put through this weird process and become a top 20. The boys' Battle Round is between shouty Adam Sanders and as-yet barely seen Josh Holiday. Adam does a Celine Dion song and answers the question "What would it sound like if a chicken could sing but then also you electrocuted it?" Josh does a very white "Georgia on My Mind" and splits his very white pants. The judges must choose! It's like Sophie's Choice, if Sophie were ambivalent about motherhood.
Nicki calls a bunch of the guys up, and one of them is David Leathers Jr, who doubles over in agony when Adam Sanders's name is also called, for Adam's name is the kiss of death. Good-bye, bunch of guys.
Next week, some kind of ill-defined Sudden Death round in Las Vegas!
And here are our top 40:
Top Twenty Girls
Melinda Ademi, 19, Yonkers, New York
Janelle Arthur , 23, Oliver Springs, Tennessee
Juliana Chahayed, 15, Woodland Hills, California
Cristabel Clack, 29, San Antonio, Texas
Aubrey Cleland, 19, West Linn, Oregon
Candice Glover, 23, St. Helena Island, South Carolina
Rachel Hale , 21, Prescott, Arkansas
Kree Harrison, 22, Nashville, Tennessee
Jett Hermano, 25, Seattle, Washington
Amber Holcomb, 18, Houston, Texas
Brandy Hotard, 26, Port Allen, Louisiana
Isabelle, 22, Duluth, Georgia
Zoanette Johnson, 20, Tulsa, Oklahoma
Adriana Latonio, 17, Anchorage, Alaska
Angela Miller, 18, Beverly, Massachusetts
Kamaria Ousley, 29, Oakland, California
Breanna Steer, 18, Laplace, Louisiana
Tenna Torres, 28, Queens, New York
Shubha Vedula, 17, Mt. Pleasant, Michigan
Jenny Beth Willis, 17, Owensboro, Kentucky
Top 20 Guys
Lazaro Arbos, 21, Naples, Florida
Charlie Askew, 17, Little Rock, Arkansas
Nick Boddington, 27, Memphis, Tennessee
Curtis Finch Jr., 24, St. Louis, Missouri
Kevin Harris, 28, Montgomery, Alabama
Josh Holiday, 24, Celeste, Texas
J'DA, 27, Chicago, Illinois
Paul Jolley, 22, Palmersville, Tennessee
Johnny Keyser, 24, Pompano Beach, Florida
Elijah Liu, 18, Rowland Heights, California
Vincent Powell, 29, Austin, Texas
Cortez Shaw, 21, Dallas, Texas
Gurpreet Singh Sarin, 22, North Potomac, Maryland
Jimmy Smith, 25, Waynesboro, Tennessee
Bryant Tadeo, 23, Hilo, Hawaii
Burnell Taylor, 19, New Orleans, Louisiana
Mathenee Treco , 26, Aurora, Colorado
Devin Velez, 18, Chicago, Illinois
Chris Watson, 25, Fords, New Jersey
David Willis, 21, Mount Dora, Florida