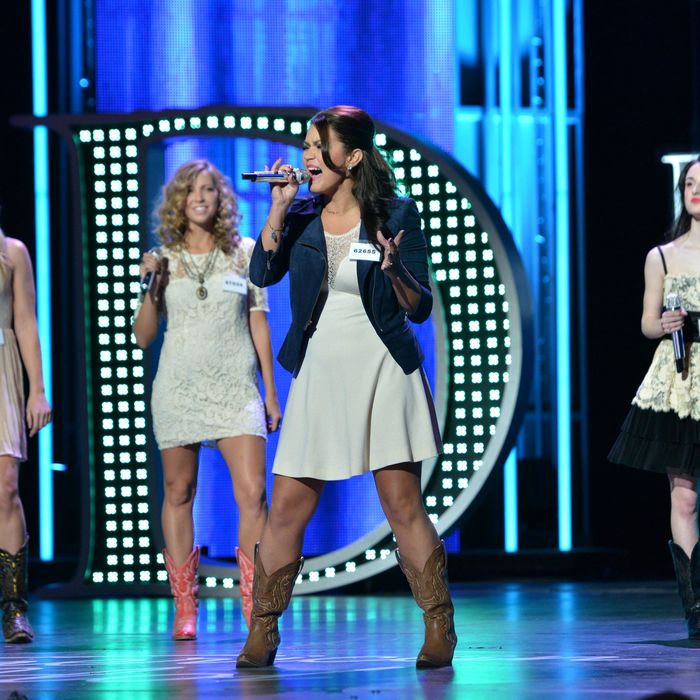 Photo: Michael Becker/FOX
Hollywood Week continues! Or, really: Hollywood Week stops, rewinds, and replays last week's episodes. You see, they have broken up the boys and the girls this year, so now we have to endure the drama and emotion of the solo round, the group round, and the other solo round all over again. And also the thing where the kids walk into their hotel rooms for the first time and leap excitedly onto their beds. Why do these people do this? Do they normally sleep on hay?  

The judges tell us the same thing they did last week, which is that this is going to be hard and the singers betta bring it and all the boilerplate judge stuff. They seem to have spent about six hours lighting Mariah for her candid street interview. And she says "dahling" a million times. Mariah is getting desperate for a personal brand, and she seems to have settled on "distracted rich person."
As always, the singers must line up and sing a capella right out of the gate, after which half will be sent home. The first group consists of mariachi lady Victoria Acosta, anorexia recoverer Mariah Pulice, and less-salvia-y Miley Cyrus Angela Miller. You know how some of these kids seem a little pleased to have sad stories to tell? I don't want to say that that's how Mariah Pulice feels about her anorexia, but she does seem eager to bring it up and to tie her future in the competition to her chances at recovery. "I hope I make it through," she says, "because it's really helping me get better." Like: Do you want me to go to the next round, or do you want me to die? The judges don't care. She's sent home, as Angela and Victoria go through.

Also headed to the Greyhound station: kookball Ashley Smith! College pageant lady Anne DiFani! Person with whom I am unfamiliar Sara Restuccio! Nice barely knowing you, ladies.  

And then the producers try to gin up a phony rivalry between country girls Rachel Hale and Janelle Arthur, as though it were The Hunger Games and only one can survive, and I don't know why they've bothered, because both are through. Both also display the possibly malevolent good cheer of a harried flight attendant.  

Candice Glover, who got eliminated in Hollywood Week last year, is back and is very Jennifer Hudson–ish and is through to the next round. Miss Greater Baton Rouge Megan Miller, who had been in a car crash just before her initial audition, which she did on crutches, gets a big fat no and is no doubt wishing her recovery had been less swift.

Mariah sighs, "Noooobody understands what we endure." It's like Mariah saw Maggie Smith in Downton Abbey and was like: "Yes. That's who I'll be. Except in Wendy Williams wigs and Bachelor-mansion cocktail-party gowns."

Okay, so you know how everyone's talking about Lena Dunham's body right now? And how when you watch Girls and she is naked, which is a lot of the time, and it's not like her body is a bad body, because who really has the authority to say what a good or a bad body is, or if such a thing even objectively exists, and you start thinking about the ridiculous social construct of conventional beauty and your own relationship to it, and whether your tastes have ever really been yours, and the only way you can verbally express your racing thoughts is to say: "Huh. Don't see that every day?" This is how I feel about Kez Ban's eyebrows. They are somewhere between William Baldwin and Peter Gallagher, and you want to tweeze them into submission not because they are unfeminine (because again, what is that even?) but because they are all over the fucking place. They don't seem to bother her, though, because she may have bigger fish to fry, namely that she is super weird and 43 and probably on white drugs. She is not the best singer, but definitely a character we are going to have to put up with for a while. She sings "Nights in White Satin" by the Moody Blues because that's Kez Ban for you. To the group round she goes.

Everyone keeps reassuring themselves that there will be a female winner this year, which I'd like to think is true, and I'd like for that female winner to be Briana Oakley. She's like a funky young Denise Huxtable, and I want to listen to Five Star records with her. She's through!

And then it's GROUP NIGHT, and this year the producers are dividing them up, which they repeat is a controversial new twist, except nobody seems to care. There is the requisite Group Night drama, where people can't seem to learn basic choreography, simple harmonies, or the lyrics to songs that are on the radio every two seconds. I won't go into it here. You've seen it.

Oh: Also, they pretend the judges pull up to the theater in Ford Escape Hybrids. Picture Mariah Carey in a Ford Escape Hybrid. Sorry I broke your imagination in half.

The Swagettes, with Candice and several other girls in whimsical eyeglasses, start us off with "Hit 'Em Up Style," a song I hear exactly once a year at exactly this time. They're fun! They're through! Randy is not there! It's a joyous moment.

Raisin' Cain, a country bunch of gals that includes Brandy Hotard (that name!) and Lauren Mink (one of my favorites from last year, who got bounced at around this time), does the Dixie Chicks' "Sin Wagon," replete with corny choreography, but it's all very winsome and sweet, and Nicki talks to them in a syrupy Southern accent and Mariah rolls her eyes, but you know she's wishing she thought of it first, and they're all through.

Savannah Votion has appointed herself the leader of her group Almost Famous, choosing Gotye's "Somebody That I Used to Know," teaching them the harmonies (of which the song has none) but none of the lyrics (of which the song has many). Hence, they go up onstage and eat it, and only Daysia, a woman I've never seen before, makes it through. The other three make a big stink about how it's not fair and how they're never coming back, and I think, Well, yeah. That's what go away means.

The Dramatics get off to a good start, but then Janel Stinney goes all crazy. Instant tears, occasional catatonia. That's the beauty of Group Night: real-time psychotic breaks. Anyway, they pull it together to sing "If I Die Young," and at the "sharp knife of a short life" line, they all clutch their stomachs, stagger, and act like they got gut-stabbed. And even though nobody can remember their lyrics, Nicki's in love with them, and she's the boss, so they're all through.  

So is Shubha Vedula! It's a fun name to say.

Urban Hue contains Seretha Guinn (with the boyfriend who was in the hospital) and Tenna Torres (who went to Camp Mariah). Despite writing the lyrics on their hands and forearms, they all forget every word of "American Girl." Only Seretha is out.

Zoanette's group is maybe called the Boo Snaps. Or the Poo Snaps or the Booze Naps or the Food Stamps. They say it a million times, and I honestly have no idea. And their version of "Knock on Wood" is a joyful mess. Zoanette ad libs a line about how "we here, boo snappin' (or poo snappin' or booze nappin' or food stampin') all the waaaayyy." They're mostly through! And except for the actual sound of her singing voice, I like Zoanette. She's like Tracy Morgan doing Fantasia.

Our next group, Handsome Women, features Shira, the lady with the hit song in Israel; Alisha Dixon with the Skrillex hair; Courtney Calle, who looks like Abby Elliott doing Zooey Deschanel; and Liz Bills, who is barefoot and earth-mothery. There's a rift between Liz and the rest of the group, for reasons a camera crew wasn't around to capture, but come performance time, only Liz manages to remember the lyrics to "Somebody That I Used to Know" and the fact that it's a sad song, and only she makes it through. Shira uses her Israeli army training to make it a powerfully awkward moment, going back out onstage to beg for another chance. Each year, one person must do this. It has yet to be successful.

4U switches their song at the last minute. Originally, they took Kalli Therinae's advice to do "Total Eclipse of the Heart," because Kalli has been in this competition, and she knows how to make it through. Well, since we've never heard her name before, she obviously doesn't know how to make it through, and the sum of her advice is "If we do well, we'll make it to the next round," which one does not need to have been through this process to know. So they veto her choice with two hours to go, and switch to "Somebody That I Used to Know," because how could they know that it's this year's Group Night Song of Death? Half of them make it through, and Kalli isn't one of them. Let's all stop taking Kalli Therinae's advice.

The Dolly Chicks are one of those all-country-gal groups that you'd think could pull it together effortlessly, but they don't. They have one of those classic Group Night clashes over whether they should sleep or rehearse their choreography, even though their choreography is just kind of shifting their weight from one foot to the other and occasionally pointing. And they can't remember the words to "Sin Wagon," which should be etched on the brain of any aspiring country gal. But only Brandy Neelly is out, and she takes it so gracefully that I want her to stay forever.  

The Misfits, with Angela Miller, Breanna Steer, Janelle Arthur, and off-putting "amateur fire performer" Kez Ban, does "Be My Baby," and despite the mismatch, it mostly works. The only bum notes in their harmonies come from Kez. Boy, this lady is weird. She's like one of those people who talks to you on the subway when you're trying to read a book. I get the feeling she hoards. But she doesn't manage to drag them down, as they're all through to the next solo round.

And that's it! Tomorrow, it's time for Solo Night Two: The Re-soloing, which will narrow us down to twenty, almost definitely including tonight's standouts: Angela Miller, Janelle Arthur, Briana Oakley, and Candice Glover. And probably Kez Ban, because the producers got the message that this show needs a Sanjaya to stay relevant, and if this year's model is actually psychotic, all the better. See you then.