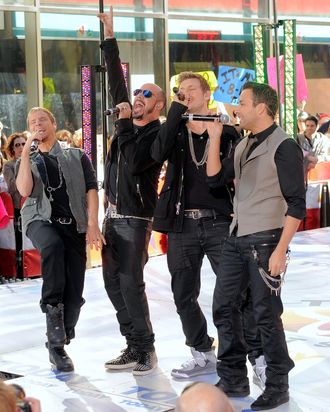 Singers Brian Littrell, AJ McLean, Nick Carter and Howie Dorough of the Backstreet Boys perform on NBC's "Today" at Rockefeller Center on June 3, 2011 in New York City.
Photo: Jemal Countess/Getty Images
Big day for teen movie news: The recently reunited Backstreet Boys are getting their own documentary, and it's not just a fluffy Tiger Beat video, either. Stephen Kijak, who directed Stones in Exile, is working on the feature-length project for Pulse Films (which produced LCD Soundsystem's Shut Up and Play the Hits). Even Kevin is involved. Look, JT, boy-band reunions can be Serious Film Events, too.