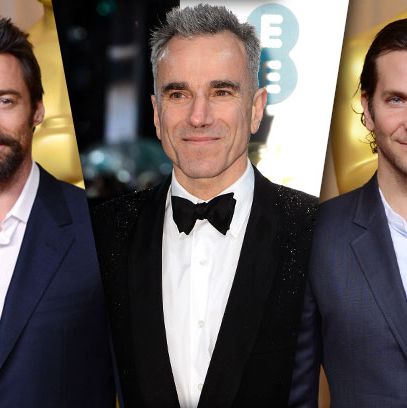 The Nominees
Bradley Cooper, Silver Linings Playbook
Daniel Day-Lewis, Lincoln
Hugh Jackman, Les Misérables
Joaquin Phoenix, The Master
Denzel Washington, Flight
Here's how thoroughly Daniel Day-Lewis is revered in Hollywood: This year's Best Actor bumper crop is filled with actors like Hugh Jackman, Joaquin Phoenix, and Bradley Cooper giving the performances of their lives (in addition to several other career-best actors who didn't make the nomination cut, like The Sessions' John Hawkes and Abitrage's Richard Gere), and yet, they barely figure into the competition. It's widely assumed that Day-Lewis will steamroll his rivals on the way to a record-breaking third Best Actor win, and Vulture readers agree with the conventional wisdom, since 86 percent of voters in our online Oscar ballot are predicting Day-Lewis for Best Actor.
So Day-Lewis's competitors have no chance, right? Well, it ain't looking good for them, we'll put it that way. Take The Master's Joaquin Phoenix, who looked like the Best Actor front-runner once upon a time … before he started bashing the Oscar race and before The Master fizzled a few weeks into its release. Actors still respect Phoenix's 100 percent commitment to his role, but up against the famously Method approach of Day-Lewis, who lives (and texts!) in character for months, that accomplishment is decisively trumped.
In any other year, we'd probably be asking whether Denzel Washington was the one on his way to a third Academy Award, since his Flight role as a struggling alcoholic is the very definition of Oscar bait. Or perhaps Bradley Cooper would be given better odds for a meaty role as a mentally unstable obsessive in Silver Linings Playbook, especially since the Academy loves to reward mainstream movie stars who reveal dramatic new layers (just ask Cooper's All About Steve co-star Sandra Bullock, who won a "We Knew You Could Do It!" Oscar for The Blind Side). But it isn't any other year. It's the one where they're opposite Daniel Day-Lewis.
And then there's Hugh Jackman. Listen, I am not gonna tell you to put all your chips on Hugh Jackman … that would be crazy. But. But! If there were anyone who had a remote chance in hell of beating Day-Lewis, we'd give this Aussie the edge. His arduous Les Misérables performance is a big Academy crowd-pleaser, and so is the actor himself: I've seen both Day-Lewis and Jackman at plenty of awards-season events, and while the former is worshipped by intimidated admirers at a distance, Jackman is positively mobbed by well-wishers. People love Hugh Jackman, and he's so open-hearted and friendly that you can't help but root for him. Will that prompt enough Academy voters to throw their votes in his direction? Some, but not enough: When it comes to securing votes, who's going to be better at it than the president who passed the Thirteenth Amendment?
Likely to win: Daniel Day-Lewis
Dark horse: Hugh Jackman