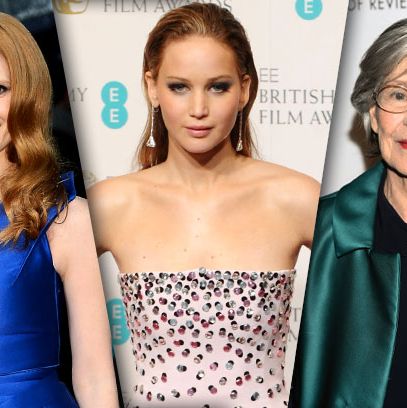 The Nominees
Jessica Chastain, Zero Dark Thirty
Jennifer Lawrence, Silver Linings Playbook
Emmanuelle Riva, Amour
Quvenzhané Wallis, Beasts of the Southern Wild
Naomi Watts, The Impossible
In the early fall, as awards-season pundits began to compile their Oscar contenders, the Best Actress race was considered less than compelling: Aside from Rachel Weisz's critically acclaimed work in The Deep Blue Sea, the only performer who seemed worthy of an Oscar nod was a 9-year-old novice to acting, Beasts of the Southern Wild discovery Quvenzhané Wallis. Then Jennifer Lawrence came along and took the Toronto Film Festival by storm with Silver Linings Playbook, while Jessica Chastain won plaudits for her ferocious Zero Dark Thirty lead, transforming this into a real race between equally promising, previously nominated ingenues. And yet, it might be Emmanuelle Riva who takes home Oscar gold …
But first, let's look at Jen and Jess, shall we? I mean no slight to Wallis or to Naomi Watts, who turned in terrific, waterlogged work, but remain long shots to win. (Watts is more unlikely, I would say, since the Academy could always decide to "pull a Paquin" with Wallis.)
Even though some pundits have switched their predictions to Riva, I'd still stick with Lawrence, and 52 percent of Vulture readers agree, according to our Oscar ballot poll. Out of all the nominees here, she has the most well-rounded performance, as her Silver Linings character Tiffany boasts a strong arc packed with comedy and tragedy. That scene where she stands up to Robert De Niro and shuts him down completely and utterly? (Quentin Tarantino's favorite scene, by the way.) It's not just a guaranteed, bona fide Oscar clip, it's the kind of scene that wins you the Oscar.
What's more, as I've discussed before, a win for Lawrence would essentially be her coronation as Hollywood's new hope. It hasn't been easy to grow a new generation of superstars: Though actresses like Kristen Stewart and Emma Stone are famous, they don't have that feeling of Julia Roberts or Sandra Bullock in their prime, where audiences were eager to see them in absolutely anything. Lawrence is different, a celebrity BFF with phenomenal chops and appeal. It helps that she has a blockbuster franchise in The Hunger Games, with three more sequels to ensure her staying power, but Lawrence also managed to open the disposable thriller House at the End of the Street to a decent number … and she didn't even bother to promote it! For an actress on the rise like Lawrence, an Oscar victory is the Hollywood establishment's final, coveted imprimatur.
At the same time, the town is crazy for Jessica Chastain, a character-actress chameleon who's also indubitably a movie star. These sorts of women don't grow on trees — it's been a while since Meryl and Cate had some company — and it's easy to picture Chastain at the podium, the serious-actress baton successfully passed. However, though Chastain is fierce as Zero Dark Thirty's Maya, she's got far fewer notes to play than Lawrence. And while the film has been a big hit with audiences and critics, it's a controversial subject for some voters thanks to its ambiguous torture scenes. Some may wait to reward Chastain for her next nomination, which feels like an inevitability.
The one actress in this category who's unlikely to get another shot, though, is Riva. Roles as meaty as her Amour performance don't come along very often for 85-year-olds, and the irresistible fact that Riva turns 86 on Oscar night — which could be capped by a big, gold-plated present — is just another reminder that if you want to reward the acclaimed French actress, you'd need to do it now. BAFTA voters agree, and they gave Riva their top prize this past week, a tide-turner that instigated a lot of pundit buzz. The Academy has many voters in common with BAFTA, and the BAFTA winner for Best Actress almost always takes home the Oscar; when Meryl Streep beat Viola Davis for the Oscar last year, or when Marion Cotillard triumphed for her foreign-language La Vie en Rose performance in 2007, those wins had already been presaged by BAFTA. Admittedly, British voters may simply be more partial to European actresses than the Academy will prove to be … but on the other hand, this could be the start of something big for Riva. We'll know soon.
Likely to win: Jennifer Lawrence
Dark horse: Emmanuelle Riva