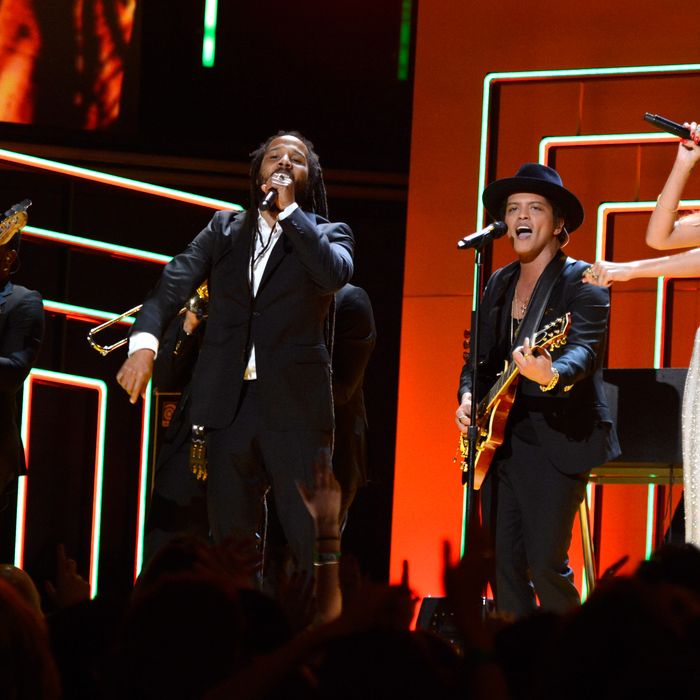 LOS ANGELES, CA - FEBRUARY 10: Sting, Ziggy Marley, Bruno Mars and Rihanna perform onstage during the 55th Annual GRAMMY Awards at STAPLES Center on February 10, 2013 in Los Angeles, California. (Photo by Kevin Mazur/WireImage)
Photo: Kevin Mazur/2013 Kevin Mazur
Awards-wise, the 2013 Grammys were as rock-leaning and vaguely unsatisfying as they are each year (congrats to Mumford & Sons, fun., The Black Keys, and Gotye, all of whom rode the Recording Academy's guitar enthusiasm to wins in the big categories.) The performances, though — they were an improvement! Or: At least no one was stuck in a sad, strobe-heavy EDM warehouse like last year. Let us now relive the highlights.
The Return of Justin Timberlake (Alternate Title: The First Trailer for Justin Timberlake's Upcoming Rat-Pack Movie)
The YouTube footage from Justin Timberlake's first comeback performance (in New Orleans last weekend) had an old-school, wannabe-Sinatra feel to it, like Justin Timberlake had written the soundtrack to an upcoming Rat Pack biopic starring Justin Timberlake. He brought the same act to the Grammys — tux and slick, super blonde (possibly dyed) hair and all — and then ran it through Instagram's black-and-white filter for good measure. "Pusher Girl" didn't seem like the best choice for an audience that just wants "Sexyback 2," but respect to JT for bringing the full band and the lounge-appropriate dance moves. In better news, Jay-Z's "Suit and Tie" verse does improve when he does it live. Watch:
Your Surprise Star of the Evening: Miguel!
The "Adorn" singer was forced to share a stage with Wiz Khalifa, and the Grammys producers made him sing the first verse among the plebes in the audience, but no matter: Miguel made it work, and then some. Just ask Kelly Clarkson. (Good news: they met backstage.)
Frank Ocean Continues to Hate Awards Shows
First, and most important, congrats to Frank Ocean, who won the horribly named Best Urban Contemporary Album Award and Best Rap/Sung Collaboration for "No Church in the Wild." (He deserved a few more by Vulture's count.) His performance, though, was a little understated (which is Frank's style) and a little off-key (which usually isn't). It wasn't his best, and it's the latest in a string of typically withdrawn awards-show performances that seem designed to alienate new audiences. Which is fine, if that's what Ocean wants to do; we just worry that it's working.
The Bob Marley Tribute: Unexpectedly Fun!
Maybe we are just scarred by years of awkward Grammy match-ups, but Rihanna + Bruno Mars + Sting = Bob Marley tribute album was not an equation that Vulture was looking forward to. We were wrong, though; Bruno Mars is the perfect Awards Show robot, and even Rihanna looked like she was enjoying herself. Also: The reaction shots on this one were priceless. Frank! Ellen! Sad Drake. Collect them all.
Taylor Swift and the White Rabbit
Was this performance a) an Alice and Wonderland homage b) an effort to give retired Carnies some much-needed work c) an audition for the Mardi Gras Grand Marshall gig? Pick one, and then please explain to us why Taylor decided to slow the tempo down to a crawl. This lasted for one million years. (The Harry Styles shade was pretty great, though.)
The Levon Helm Tribute, or Mavis Staples and All the Guitars
You had to feel a little bad for Alabama Shakes's Brittany Howard on that one. But "The Weight" will always be the Mavis show, if Mavis is on stage.
LL Cool J, Played Off At His Own Awards Show
After three hours of talking about hashtags, LL Cool J was finally allowed to do some actual rapping — and then the Grammys promptly cut to their corporate sponsors. Let LL live, Grammys!
And finally, Dr. John!
In the words of @netw3rk: "'Give me the mescaline and bring me a live owl.' - Dr. John 5-hours ago."