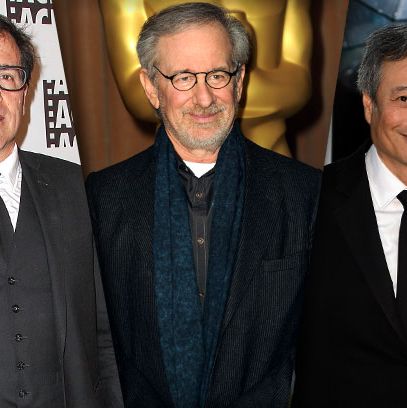 The Nominees
Michael Haneke, Amour
Ang Lee, Life of Pi
David O. Russell, Silver Linings Playbook
Steven Spielberg, Lincoln
Benh Zeitlin, Beasts of the Southern Wild
Boy, we've got a weird Best Director category this year. When the Oscar nominations were announced last month, everyone was shocked by the short list's notable snubs, and pundits (including this one) assumed that since Argo, Zero Dark Thirty, Les Misérables, and Django Unchained couldn't manage Best Director nods, their Best Picture hopes were all but dead.
Well, not quite.
After a series of big precursor wins, Argo is now the undisputed Oscar front-runner, and even the DGA Award (the closest corollary to a Best Director Oscar) went to Argo helmer Ben Affleck. The Academy's directors branch was clearly a total outlier this year, and their picks defied the conventional wisdom instead of shedding light on it.
But that makes things sort of fun for us, doesn't it? Since Argo already seems to have Best Picture locked up but obviously can't triumph in Best Director, that gives Academy voters an unusual amount of latitude to pick whoever they damn well want in this category. As a result, I think you could make a strong case for virtually anyone to win, save for talented neophyte Benh Zeitlin, nominated for Beasts of the Southern Wild and up against four directorial titans who will be hard to beat.
Let's start with Steven Spielberg, the safe choice. (Indeed, 69 percent of Vulture readers have Spielberg marked on their Oscar ballots.) When Affleck was snubbed in this category, Lincoln appeared to be the general Oscar front-runner by default, but the movie has struggled to pick up top prizes since, and Spielberg himself missed out on Golden Globe, DGA, and BAFTA trophies; in fact, he was snubbed of even a nomination by BAFTA, which counts many Academy members in its British voting bloc. Still, Spielberg has been playing the Oscar game harder than anyone else in this category, and there's no question that Lincoln will always be regarded as one of the crown jewels in his enviable résumé. I'd put my money on him to win, though there's some consolation for Spielberg even if he loses: Lincoln's Daniel Day-Lewis is a virtual lock to triumph in Best Actor and, as such, will become the first actor in a Spielberg film to win an Oscar. (Yep, that's never happened before.)
But here's where things get tricky. Ang Lee is no stranger to Director/Picture splits — he won for helming Brokeback Mountain in the same year that Crash took home the top prize — and history could repeat itself this weekend. Whether you were a fan of Life of Pi or not, Lee's technical artistry can't be disputed; the movie is a serious feat, and in the absence of a recognizable movie star, Lee becomes the movie's de facto famous face and the person most credited with its success. David O. Russell is the flipside of that: All four of his Silver Linings Playbook stars were nominated, a rare Oscar occurrence that also burnishes his bona fides. If there's such demonstrable support for Silver Linings out there in the Academy, isn't it conceivable that he could be swept to a Best Director win?
And then there's Amour. Michael Haneke's end-of-life drama is a spoiler to win in two other big categories, Best Actress and Best Original Screenplay (not to mention a near certainty to triumph in Best Foreign Language Film), so why shouldn't it play the same part here? I've noted before that the Academy is often moved to reward a nominee when it seems unlikely that he or she will ever be nominated again; that's why Amour's elderly Emmanuelle Riva may pull out a win over Jennifer Lawrence in Best Actress, and why Haneke — a venerated, 70-year-old auteur who rarely makes Academy-friendly films — could find himself called to the Oscar podium on Sunday. Also, if you're already voting for the totally mainstream Argo to win Best Picture, wouldn't it feel good to diversify by throwing a bone to an Austrian auteur in this category? I'm still sticking with Spielberg (and Ang Lee after that), but this one's a real nail-biter.
Likely to win: Steven Spielberg
Dark horse: Ang Lee