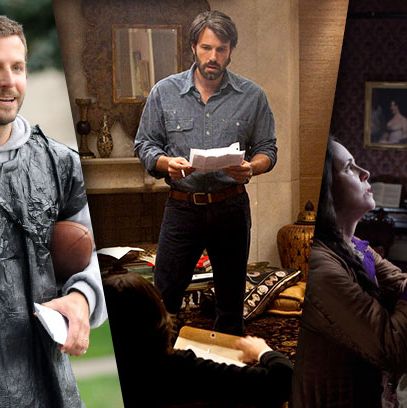 The Nominees
Amour
Argo
Beasts of the Southern Wild
Django Unchained
Les Misérables
Life of Pi
Lincoln
Silver Linings Playbook
Zero Dark Thirty
When it comes to awards-season trajectories, Argo has had one that's awfully apropos: Everyone wrote off the film's chances last month, but Ben Affleck, underestimated by many, continued to believe … and now, after a string of precursor victories, Argo is on the runway preparing for liftoff as Steven Spielberg follows in hot pursuit, unlikely to catch up. Thanks to the Golden Globes, BAFTA, the DGA, and the PGA, Argo's got all the momentum. (Though, when it comes to Vulture readers, the film is still neck and neck with Lincoln, according to our interactive Oscar ballot.)
So, can we conceive of any reasons why Argo wouldn't win Best Picture? Yes, actually. There remains the nagging statistic that it's incredibly tough to triumph in Best Picture without a corresponding Best Director nod (which hasn't happened since 1989's Driving Miss Daisy), and while Argo is well positioned to beat the odds, it's entirely possible that Oscar voters are more likely than other awards bodies to perceive Argo as weakened because they're the ones who weakened it. And let's not forget that a film can win virtually every precursor possible and still lose Best Picture, as Brokeback Mountain famously did to Crash.
If Argo does fall short of the finish line, then, what will happen? (Besides Ben Affleck using the next year to take down every Academy member, Emily Thorne–style?) My guess is that Lincoln still remains the safest next bet, with Silver Linings Playbook lurking right behind it. Both films are the most likely to create a wave by winning more than one of the biggest six Oscars: Lincoln will definitely take home Best Actor and has strong shots at Best Supporting Actor and Best Director, while Silver Linings could also take home those latter two awards and is very likely to collect the Best Actress prize. If you're a voter who has already checked off several other boxes for Lincoln or Silver Linings, then, you might continue that sweep when it comes to Best Picture.
What about the other nominees in this category? Well, if you hew to history, the films with the strongest shot at Best Picture usually manage Best Director and Best Editing nominations too. (Though keep in mind that if Argo wins without a Best Director nod, these bellwether stats are going to seem awfully meaningless from now on.) In that case, Life of Pi is in the top tier of nominees, and indeed, some pundits think that Ang Lee will win Best Director for his feats of technological mastery; if that happens, Best Picture doesn't seem like such a long shot.
Amour and Beasts of the Southern Wild aren't tipped to win, but maybe we're underrating them, since they've got crucial Best Director nominations in addition to key nods in Best Actress and Screenplay. Still, it'd be something of a shock: Foreign films and micro-budget indies don't tend to win Best Picture. Meanwhile, Les Misérables, Django Unchained, and Zero Dark Thirty all had good shots at the top prize once upon a time, but they never recovered from their Best Director snubs, even as Ben Affleck eventually surmounted his.
So it's Argo, then, right? Yeah, pretty much. But the fact that Argo is even considered a front-runner after that Big Snub is proof positive that this is a year where anything can happen, where all the previously ironclad Oscar rules go out the window. Here's another way Argo's awards-season trajectory has mirrored the film itself: Even though you're pretty sure of how this will all end, it still remains suspenseful to the last.
Likely to win: Argo
Dark horse: Lincoln