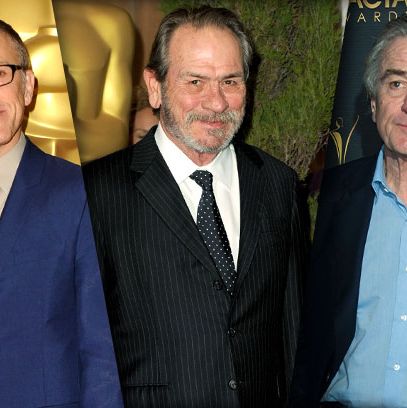 The Nominees
Alan Arkin, Argo
Robert De Niro, Silver Linings Playbook
Philip Seymour Hoffman, The Master
Tommy Lee Jones, Lincoln
Christoph Waltz, Django Unchained
Could Best Supporting Actor be this year's most unsettled Oscar category? While Daniel Day-Lewis and Anne Hathaway have grabbed nearly every Best Actor and Supporting Actress trophy around, several men have split the Supporting Actor plaudits. And unlike last year, when Christopher Plummer's Beginners win was a foregone conclusion, this crop could provide some genuine excitement early in the Oscar telecast. (Still, keep your expectations in check: This is one terse, ornery group of former winners.)
If there's a tentative front-runner here for you to put down on your Vulture Oscar ballot, it's got to be Lincoln's Tommy Lee Jones, who took home the Screen Actors Guild win in this category. Over the past five years, SAG has correctly indicated the eventual Oscar winner in Best Supporting Actor, which is no surprise to awards pundits since actors also make up the Academy's largest voting bloc. Still, upsets do happen: In 2005, Cinderella Man's Paul Giamatti won the SAG award but lost the Oscar to George Clooney for Syriana, while the following year, Alan Arkin managed a Little Miss Sunshine Oscar win over the former front-runner, Dreamgirls standout Eddie Murphy.
So if it's not Jones, then who would it be? Django Unchained's Christoph Waltz has plenty of late-breaking buzz after earning wins at the Golden Globes and the BAFTAs; only the latter awards organization has any overlap with the Oscars, but Academy voters like to vote with the guy who's got momentum. It helps, too, that Waltz's film was the most recent of these nominees to be released and is therefore potentially still freshest on the voters' minds. Also fresh on voters' minds: Waltz's Best Supporting Actor win in 2012 for Inglourious Basterds, which could prevent him from taking home the same prize so soon. However, Waltz lucked out by landing in a category with four other men who've also won Oscars, which blunts the argument against him a bit.
Still, one of his competitors is trying to find a silver lining in that statistic: Robert De Niro, who won the most recent of his two Oscars more than 30 years ago for Raging Bull. (The last time he was even nominated? 1992, for Cape Fear.) The Weinstein Co. is mounting an aggressive awards campaign to remind voters just how long it's been since De Niro received a laurel (well, it wasn't gonna happen for Righteous Kill, Bob), and the usually reticent De Niro has been a publicity hound this season, pressing his handprints into the cement outside the Chinese Theatre and spilling tears in an interview with Katie Couric. He hasn't picked up any of the major precursors, but don't count him out just yet. On the other hand, you can go ahead and count out Philip Seymour Hoffman and Alan Arkin, who haven't picked up enough voter buzz to break through.
Likely to win: Tommy Lee Jones
The dark horse: Christoph Waltz