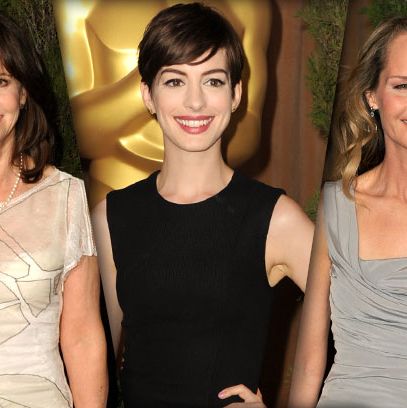 The Nominees
Amy Adams, The Master
Sally Field, Lincoln
Anne Hathaway, Les Misérables
Helen Hunt, The Sessions
Jacki Weaver, Silver Linings Playbook
So, Anne Hathaway's a mortal lock to win the Oscar, right? So say awards-season pundits, and according to our Oscar Ballot, 83 percent of Vulture readers agree, betting on Hathaway to triumph for her arresting cry-and-die Les Misérables performance … and yet, there's just one thing that gives us pause. Hathaway is nominated in the Best Supporting Actress category, and that's historically a race where anything can happen.
Some of the most famous upsets and surprise wins in Oscar history have occurred in this category over the last two decades: Anna Paquin's shock victory for The Piano, Marisa Tomei beating a bumper crop of Brits for My Cousin Vinny, Marcia Gay Harden's totally unexpected Pollock Oscar nod, The English Patient's Juliette Binoche shoving past Lauren Bacall … we could go on and on. Which raises the question: If the nearly unthinkable were to happen and someone managed to edge out Anne Hathaway for the Best Supporting Actress Oscar (and then beat Hathaway to the stage, since the Les Miz actress would surely rush the podium to double-check the envelope herself), who would it be?
Two of Hathaway's competitors feel like longshots, though we'd never put anything past this wacky category. Amy Adams got great notices for her work in The Master, and Jacki Weaver was swept into the race thanks to a cresting Silver Linings Playbook wave, but neither actress snagged a Screen Actors Guild nomination, which implies that their support in the Academy's biggest branch may be limited. There is still a pinprick of sunlight for each actress — Harden's 2000 Pollock performance didn't receive a SAG nomination, either — but the odds remain against them.
Sally Field and Helen Hunt are better sleeper picks, I'd wager. Field's Lincoln role is a showy one with some primo monologues, and she picked up an early precursor win with the New York Film Critics that marked her as a potential threat. Also, "Long-Suffering Wife of a Great Man" is an archetype that's Oscar catnip … just ask former winners Harden, Jennifer Connelly (for A Beautiful Mind), and Reese Witherspoon (for Walk the Line). Meanwhile, Hunt's performance in The Sessions ticks off so many Oscar boxes — she's naked, she has an accent, it's a comeback role — that she shouldn't be counted out, even if the film underperformed.
The problem for Hunt is that Hathaway's Les Miz performance checks off even more boxes. She sings! She dies! She's a sex worker! She's an ingenue! Oscar voters are often willing to go their own way, but people like to vote with a winner, and Hathaway has been an awards-season juggernaut. We would never bet against her … but in the event that a shocking upset does happen, at least you know your history.
Likely to win: Anne Hathaway
Dark horse: Sally Field