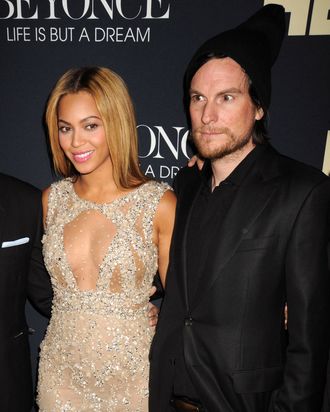 Beyoncé and Ed Burke.
Photo: Johns PKI/Corbis
"I'm trying to really live in the moment," Beyoncé told Oprah last night in their Q&A introduction to Life Is But a Dream, the singer's HBO documentary airing Saturday at 9 p.m. "This is huge for me." Though Beyoncé herself didn't stop for print interviews on the red carpet, her co-director Ed Burke — who has worked with Beyoncé for eight years and directed her Beyoncé's I Am... World Tour documentary — happily obliged. Here's what we learned from him.
Beyoncé is "so hands-on." (Surprise!)
"She was in the edit room fourteen to sixteen hours a day looking at all the footage. She goes through every piece of footage, which is nuts to me, but she spends the time and does it … she keeps a personal [video] diary on her computer. I think that's kind of therapy for her and not for the public eye — but she gave us 44 minutes from these diaries. That's what spurred the whole project, and we structured it from these diaries that were very raw, revealing, and honest."

She didn't censor the documentary.
"Never. [She never said] 'Oh, you can't show that.'" (That said, the documentary makes no mention of the scandal that's surrounded her father.)

There's  a "weird perception" of who she is. (Surprise!)
"I think everyone has a really weird perception of who Beyoncé is, and I know her as my friend, my boss, but she's really humble and normal, which is what I like. She could have done a fluff piece; she could have done something that was just purely for financial reasons, but this was purely a thing from her heart. Is it a good move? I can't answer that. The Super Bowl was a good move for her. But I think it's beautiful because you really get to know who she is."

She's raising an old soul.
"I've played with Blue Ivy. When she's around, I end up shooting her more than Beyoncé. She's just a really funny, beautiful little child. Julez [Solange's son], too: They have a very old soul. " (Also, Beyoncé told Oprah that Blue's favorite song is "Row, Row, Row Your Boat." Life is but a dream … get it?)
She makes people nervous. (Surprise!)
"I do get nervous [around her]. I do. It's weird. But as soon as you're with her, I think there's a comfortableness that comes over you. But it's always a little nerve-racking."