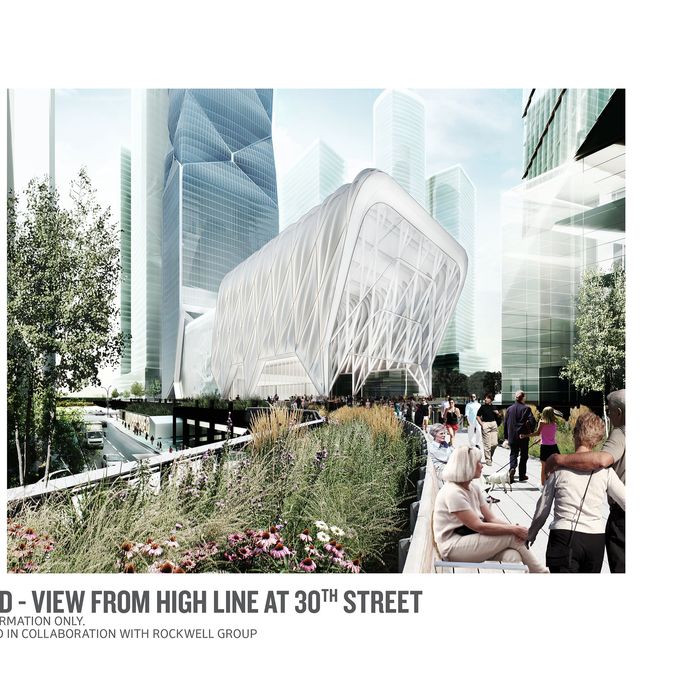 An artist's rendering of the proposed Culture Shed
Photo: NYC Department of Cultural Affairs
Tucked into Mayor Bloomberg's final State of the City speech yesterday was a proposal for the Culture Shed, a new kind of architectural creature planned for the future Hudson Yards. Designed by Diller Scofidio & Renfro, with Rockwell Group, it's a strange and thrilling project. A glass-sided box covered by a synthetic carapace sticks out from the base of an apartment tower (also designed by DSR and Rockwell) and sidles along the High Line on West 30th Street. At the touch of a button, the building molts: The six-pawed shell slides out on tracks to enfold a vast plaza. Then a stage goes up, blackout curtains drop, a lighting grid lowers, the climate-control system switches on, and an indoor performance space for an audience of thousands quickly takes shape. Or here's another scenario: Forget the stage and the curtains, and imagine instead a big corral bounded by the open latticework and filled with booths or tables for a food fair. Add up the four floors of the fixed building, the roof garden, and the pop-up enclosure — which is nearly the size of the Drill Hall at the Park Avenue Armory — and you get 170,000 square feet of space engineered to receive whatever crazy projects artists, fashion designers, restaurateurs, and performers can think of to fill it.
Every era creates the venues it needs. Eighteenth-century Europe brought forth court theaters and cozy opera houses, the nineteenth produced large concert halls and museums, and the twentieth created the multipurpose venue that could welcome touring musicals, film screenings, and symphony orchestras. Now we have forms of artistic energy that spill beyond the confines of existing rubrics. MoMA has grown, Lincoln Center has retooled, and the Whitney is moving to Chelsea, but each of those institutions has a distinctive DNA. The Culture Shed encourages the city to shed those old definitions of culture. It will operate the way the Forum did in Ancient Rome, as a neutral meeting ground where ideas can be incubated and influences exchanged. The Culture Shed will be more than a building: It's a nimble new institution. Traveling exhibitions that previously skipped New York because no museum would accommodate them would now have a place to alight. Fashion Week could have a permanent home, instead of camping out in an unsightly box at Lincoln Center and despoiling Damrosch Park.
There are reasons for skepticism. The budget and the board are still in flux, the time table is mushy and dependent on progress at Hudson Yards. The city has been dosing information like an intravenous drip, nudging the project through the approvals process and forbidding the architects from explaining their design in detail. Culture was supposed to adorn the World Trade Center site, too, but Frank Gehry's performing arts center has been stuck in the wishful thinking phase for years, despite a $150 million grant from the Federal government. Besides, should the city even be getting so elbow-deep in culture? What one mayor bestows, another can make a lightning rod for moralizing interference. Does anyone recall how Rudy Giuliani took a swipe at the Brooklyn Museum over its 1999 Sensation! show, using the city's ownership of the building as a club ?
You might also think that the last thing New York's crowded cultural ecology needs is a large new institution competing for audiences, donations, attention, and buzz. And you might wonder whether plunking down 50,000 square feet of exhibition space at the northern end of the High Line makes sense just when the Whitney is building the same number at the southern end.
No worries, says cultural affairs commissioner Kate Levin: "Culture has never been a zero-sum game." On the contrary, the Culture Shed is an answer to a whole constellation of needs. Many organizations have big ideas but small spaces, or no space at all, and they aren't interested in getting into the real-estate business. Institutions want to expand their audiences but have no place to put them. And artists want to collaborate with musicians in ways that would require a cross between a museum and an opera house. The Culture Shed is being designed to meet all of those amorphous demands. It will be an institution like no other: eclectic, adaptable, and untethered to an artistic program. It will have no vision, but be a vehicle for many. So can a big new cultural enterprise thrive where New York City Opera and the Folk Art Museum have seen their ambitions wither? "If you'd asked me that ten years ago, we would have been talking about a city with 31 million tourists, and we have 55 million today," says Reynold Levy, the president of Lincoln Center, which is not involved with the project. "So, yes, I'm an optimist about the capacity to draw audiences to exciting things."
The architecture's excitement lies in its ingenious simplicity. On their own, the separate components mean little: a gallery building with big open floors and a latticework gantry that uses shipyard technology more than a century old. But it's the way they nest, interlock, and pull apart that gives the building its identity and makes the possibilities tantalizing. If the Culture Shed is built, funded, and well run, New York will have bought itself a marvelous machine for creating.