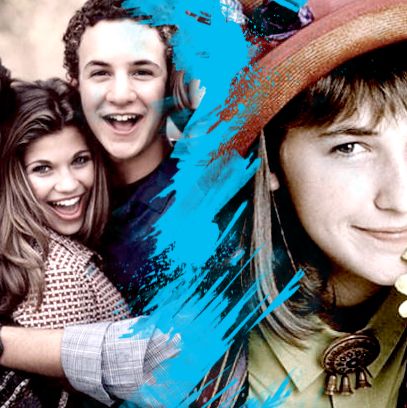 Earlier today, Vulture launched its Sitcom Smackdown, a three-week contest that pits the best sitcoms of the last 30 years against each other to crown the ultimate winner. But while that bracket focuses on the greatest, most innovative modern comedies, it couldn't cover all of the series that live on in our hearts that may not fit those highfalutin parameters but which we could talk about for days. Some of them are admittedly cheesy comfort classics from our youths that we've rewatched a billion times, some are forgotten treasures, and some are just programs we'll always have a soft spot for. To give these other series their moments to shine, every day we'll be pitting two like-minded comedies against each other: We'll pick our winner, and readers will then vote for their own.
Today's contenders: Blossom (1990–95) vs. Boy Meets World (1993–2000)
Early-nineties comedies sure did love their earnestness. Kids and parents — they were constantly learning from each other! Family sitcoms were still cranking out Very Special Episodes about drugs, AIDS, cults, divorce, etc., and Blossom and Boy Meets World were leading the charge.
Central teen: Blossom, a charismatic free spirit with a borscht-belt sense of comic timing, and Cory, a big-hearted idealist with occasional hints of Woody Allen–ish tendencies.
BFFs? Six, Blossom's jabber-jawed neighbor, and Sean, Cory's wise-cracking sidekick.
Love interests: Goodie-goodie Blossom falls for bad-boy Vinnie in the show's third season, while Cory and his true love Topanga know each other from the get-go.
In what ways does the show tackle themes of parental abandonment? Blossom's mom abandoned her, her brothers, and her father, and it's a point that comes up pretty often. Cory's buddy Sean has no reliable parents at all, which comes up pretty often, too.
Are the shows any good? Yeah, they are, actually. And they're totally guileless. Blossom has a little more bite to it, and where BMW is more lesson-based, Blossom tends to be more character-driven, but both shows have this kind of open-hearted "let's grow up to be ethical people!" spirit about them that somehow manages not to be irritating. "Not irritating" is incredibly high praise for a show about tweens and teens.
The moment of truth: BMW might occupy a revered place of Tumblr reverence, but Blossom is a slightly better show. It's an honest-to-goodness sitcom, where BMW is more explicitly pitched to a kid audience. Admittedly, a lot of this just comes down to age: I'm the right age for Blossom but just a little too old to have loved Boy Meets World when it was on. Winner: Blossom. But that's just my opinionation.