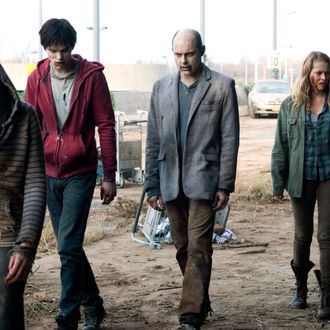 Photo: Jonathan Wenk/Summit Entertainment
This Weekend's Winner: Critically, Warm Bodies (No. 1 with $20 million) might only be death warmed over, but it was one of the few signs of life at the box office this Super Bowl weekend. Likewise, the robust audience retention of Silver Linings Playbook (it lost just 14 percent of last week's crowds) means that fully half the Best Picture contenders — serious adult dramas, all —  will have grossed over $100 million by the time the Oscars roll around. Tell me the last time that happened, will you?
This Weekend's Losers:  Bullet to the Head (No. 6 with $4.5 million) never came out of its shell, while Fisher Stevens's platform release Stand Up Guys opened – and here the term 'opened' is being used very loosely – to No. 17 with just $1.5 million. Sad results, too, for the No. 2 (with $9.2 million) Hansel & Gretel: Witch Hunters, which despite leaving a trail of breadcrumbs still saw more than half of its audience willingly get lost.
How It All Went Down: Super Bowl weekend is rarely pretty, and not just because people strap on the feedbag and get all Clydesdale on the nachos and tater skins. It's also a weekend of tumbleweeds at the box office. This is not to say that Super Bowl weekend is always a wash at the movies. Just a few years ago, in 2009, Fox counter-programmed with Taken and grossed a whopping near-$25 million with a film that had already been in release for almost a year around the world. And so, too, with this weekend: Summit Entertainment targeted the one demographic least likely to find orange, buffalo-sauce-stained fingers a turn-on – younger females – and offered them a zombie romantic comedy. And like any self-respecting member of undead, they bit.
"A solid flick for young girls, with a smart date," e-mailed one rival head of distribution, adding enthusiastically, "Counter program? For sure!"
Indeed, the Warm Bodies crowd was nearly two-thirds (60 percent) female, and two thirds of them young females at that (65 percent under 25).
Not such happy results for the male-skewing pictures in release, particularly the Sylvester Stallone flick Bullet to the Head (is there a vice-president of cultural tone-deafness at Joel Silver's company? Just curious … ) which opened to a fatal $4.5 million, which is the main reason why overall box office is only three-fourths what it was last Super Bowl weekend. It was powered predominantly by men (60 percent) and oldsters at that, with 80 percent over age 25. About the only thing interesting one can say about Stallone's second-worst opening ever (1981's Nighthawks still failed more grandly, according to Box Office Mojo) is that it does disprove the conventional wisdom that the only way to kill a zombie is with a Bullet to the Head.