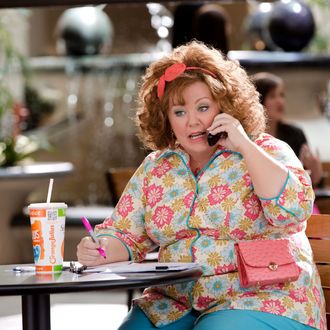 Melissa McCarthy in Identity Thief.
Photo: Bob Mahoney/Universal Pictures
This Weekend's Winners: After this weekend, Identity Thief  (No. 1 with $14 million) isn't just the top movie in America once more; it's also the highest-grossing movie of the year so far, with $94.7 million to date.
Meanwhile, as a testament to just how popular newly crowned Best Picture Oscar winner Argo is proving to be, the Ben Affleck film released last October is actually available on DVD for less than $15 at Wal-Mart and still managed to gross almost $2 million in theaters this weekend. (Total so far: $129.8 million.) So, too, with Best Actress–winning Silver Linings Playbook (No. 7 with roughly $6 million), which gave up just 3 percent of its audience, which is almost unchanged from last weekend. Amazingly enough, all nine Best Picture Oscar nominees look on track to hit an astonishing billion dollars in grosses before they finally leave theaters.
This Weekend's Losers: Snitch (No. 2 with $13 million) told few tales, but its mediocre opening is practically a smash compared with horror show Dark Skies (No. 6 with just shy of $9 million). And with more horror competition coming next weekend in the form of The Last Exorcism sequel (this time they mean it: No more exorcisms after this one!), Skies will soon fade to black.
Also taking a beating was A Good Day to Die Hard (No. 5 with $10 million). It had a bad few days at the domestic box office, losing 60 perent of its opening weekend audience, assuredly making it the weakest of a franchise that may have grown moldy at home, but is still robustly successful overseas. (So far it has taken in $132.5 million internationally, compared to $51.8 in the U.S.)
How It All Went Down: The Oscars have an effect on box office, and not just on nominated films. (See above.) Box office this past weekend was only three fourths of what it was at the same time last year, when the Bandito Brothers' real SEAL action flick Act of Valor opened to nearly $25 million.
The daddy-sacrifices-all-theme of Snitch meant that more womenfolk showed up (47 percent female!) than you might normally expect for an action thriller starring the Rock, and a majority of its attendees (almost 60 percent) were over the age of 30. (Which also means, Really, ladies, tsk, tsk! You're old enough to know better!) But it also meant a surprisingly lower number of males than usual turned out, and thus, the modest Snitch numbers, clearing the way for a resurgent Identity Thief to carry the weekend.