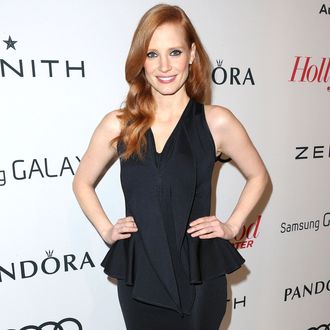 No hard feelings, Jennifer.
Photo: Frederick M. Brown/Getty Images
One of this awards season's most visible competitions is between Jessica Chastain and Jennifer Lawrence, who have been pitted against each other for most of the major acting prizes. The reoccurring face-off (which will have its final act at the Oscars) was highlighted on Saturday Night Live several weeks back, when Lawrence joked, "Jessica Chastain, more like Jessica Chast-ain't winning no Oscar on my watch. In Zero Dark Thirty you caught Bin Laden. So what? In Winter's Bone I caught a squirrel, and then I ate it. Boom. Deal with that." All in good fun, right? Purveyor of celebrity truth-iness National Enquirer says otherwise. "Jennifer felt Jessica trivialized her acting role and didn't see any humor in the bit," a source told the magazine. "She can't stand Jennifer all the more for it." The final nail in the sisterly coffin was apparently Lawrence's win at the Screen Actors Guild Awards last month. "It was a real blow to Jessica when Jennifer took the SAG award," the source said. "She tried to put on a brave face for the cameras, but inside she was seething."
In an effort to quell rumors of bad blood before tonight's BAFTAs, Chastain took to her Facebook to criticize "bogus stories about women fighting in this industry." She even had nice things to say about Lawrence: "I've done two photo shoots with Jennifer Lawrence over the years and have found her to be utterly charming and a great talent. I've told her how beautiful her film work is." And, just for good measure, Chastain added, "Every time an actress is celebrated for her great work, I cheer." Especially when she's in front of an awards show camera.