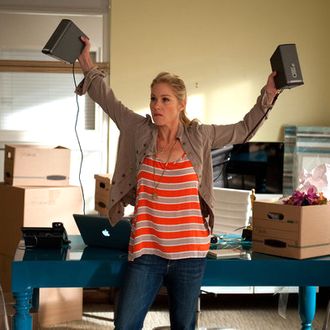 Christina Applegate is leaving Up All Night, which means there's not really Up All Night anymore. The show had already undergone an overhaul between seasons one and two, and then back in October, NBC announced that the show was going to be reformatted as a multi-camera sitcom. (None of those episodes have filmed yet, though.) Shortly after that announcement, creator Emily Spivey left the series. And yet the show is somehow not quite done: According to Deadline, NBC is "looking to proceed with the series" and is considering Lisa Kudrow as a replacement for Applegate. How would that even work? And given the show's track record of being genial but unfocused and disappointing — not bad, really, but so much less than the sum of its parts — why is NBC even trying to keep it going?
Update: Kudrow's producing partner (and Scandal actor) Dan Bucatinsky says she's not joining the show. "No truth to it at all," he tweeted.
BuzzFeed's Kate Aurthur says the planned multi-camera version of the show would be a huge change, not just a formatting tweak. "The new 'Up All Night,' should it ever exist, is the behind-the-scenes in the making of a TV show," she tweeted — with the cast playing actors and everything. Oy, just make a different show, you guys!