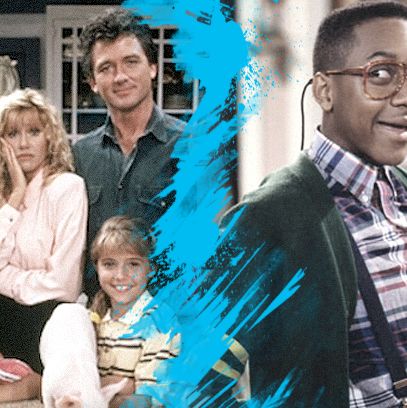 Vulture is in the midst of its Sitcom Smackdown, a three-week contest that pits the best sitcoms of the last 30 years against each other to crown the ultimate winner. But while that bracket focuses on the greatest, most innovative modern comedies, it couldn't cover all of the series that live on in our hearts, the ones that may not fit those highfalutin parameters but which we could talk about for days. To give these other series their moments to shine, every day we'll be pitting two like-minded comedies against each other: We'll pick our winner, and readers will then vote for their own. Today: It's more family-on-family, as we pit Family Matters against Step by Step.
Today's contenders: Family Matters (1989–1997) vs. Step by Step (1991–97)

Both shows were hatched by the same team — William Bickley and Michael Warren, and Thomas L. Miller and Robert L. Boyett, whose family comedies, beginning with Full House and Perfect Strangers, kept ABC's TGIF stocked throughout the nineties. Family Matters was spun off from the latter show, and it followed the home life of elevator-operator Harriet Winslow, her cop husband Carl, their kids, and one very annoying neighbor. Two seasons later, Miller and Boyett launched the family comedy Step by Step.
Home turf: Chicago and Milwaukee
Famous parents: Reginald VelJohnson (Die Hard) and Patrick Duffy (Dallas)/Suzanne Sommers (Three's Company)
Nerd alert: The Winslows' neighbor Steve Urkel, who enjoys cheese, polka, and is prone to accidents, and Carol's son Mark, who wears glasses and likes computers and gadgets.
Snubbed sibs: Judy, the youngest, most neglected Winslow disappeared after season four (when actress Jaimee Foxworth had reportedly asked for a raise) and the family made like she never existed in subsequent years, and Brendan, the youngest, quietest Lambert, who was written out after season six.
Resident idiot: Waldo Geraldo Faldo, Eddie's simpleminded BFF (catchphrase: "Sup"), and Frank's nephew Cody, a Keanu-style dimwit who liked to hit on step-cousin Dana (catchphrase: "Dude!").
Abstinence rules: In "Like a Virgin," Eddie is teased in the locker room when word gets out that he's never had sex, but he ends up being comfortable with it, and in "Virgin Territory," J.T. and Cody plan to lose their V cards to a couple of "easy" girls but wind up wanting to wait.

Hokey (but we still know all the words) theme song lyrics: Well then there must be some magic clue inside these tearful walls/ Cause all I see is a tower of dreams/ Real love burstin' out of every seam (from "As Days Go By," written by Jesse Frederick, Bennet Salvay, and Scott Roeme), and The deeper we call/ the stronger we stay/ And we'll be better/ the second time around (from "Second Time Around," also written by Frederick and Salvay).
Are the shows any good? Not really. The entire Winslow clan (except for Estelle) did nothing but bully Steve for entire seasons! And all the kids on Step by Step are obnoxious and not lovable, all the parental lessons tired (from TGIF overload by that point), and most of the jokes came from the kids putting each other down.
The moment of truth: Of all the TGIF families, Step by Step's supersize clan had the least memorable stories and the blandest, brattiest kids. Like The Brady Bunch, only no one is nice. The lone standout was Staci Keanan, and only because of lingering fondness for My Two Dads. Steve Urkel's clinginess annoyed the Winslows, but they always apologized for being jerks because the bottom line is that he was a well-meaning person. Audiences clearly favored that kind of character, too. He became the star of the show with his own signature dance and breakout alter ego. (Could you have remembered any of the names of the Step by Step kids if you hadn't read them above?) Also, the writers of Family Matters actually matured Laura and the family over time.
Winner: Family Matters. Carl and Urkel actually weren't a bad buddy comedy when paired off on their own adventures.