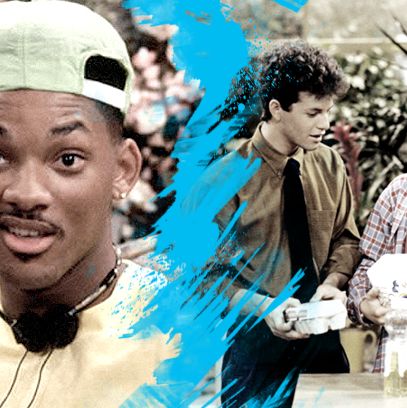 Vulture is in the midst of its Sitcom Smackdown, a three-week contest that pits the best sitcoms of the last 30 years against each other to crown the ultimate winner. But while that bracket focuses on the greatest, most innovative modern comedies, it couldn't cover all of the series that live on in our hearts, the ones that may not fit those highfalutin parameters but which we could talk about for days. To give these other series their moments to shine, every day we'll be pitting two like-minded comedies against each other: We'll pick our winner, and readers will then vote for their own. Today: It's family-on-family, as we pit The Fresh Prince of Bel-Air against Growing Pains.
Today's contenders: The Fresh Prince of Bel-Air (1990–96) vs. Growing Pains (1985–1992)
Kids have been dominating family sitcoms since Leave It to Beaver and The Many Loves of Dobie Gillis, but the Reagan/Bush era was particularly lousy with family comedies in which the teen stars stole the show from the 'rents. And while at first glance Growing Pains and The Fresh Prince of Bel-Air might seem worlds apart, it turns out they shared a number of common traits. No wonder that, combined, the two shows produced more than 300 hours of family fun.

(Slightly) bad-boy teen sex symbol: Will, the West Philadelphia b-baller with a quick wit and a broad smile whose playground fight lands him a one-way ticket to a California mansion, and Mike Seaver, the frizzy-haired golden boy who gets arrested for underage driving in the show's pilot.

Goofy sidekicks: Jazz, the Compton kid who's always getting kicked out of the mansion by Uncle Phil, and Boner, Mike's frequent partner in crime (until he joins the Marines).

Annoying relatives: Will's stuck-up cousin Hilary and Mike's smarty-pants sister Carol.

Memorable theme song sung by Grammy winners: "The Fresh Prince of Bel-Air," performed by Will Smith (and composed by Quincy Jones), and "As Long As We've Got Each Other," sung by B.J. Thomas with either Jennifer Warnes or Dusty Springfield (depending on the season).
Token toddlers with rapid growth spurts: Little Nicky, born at the end of season three, blossoms into Will's toddler cousin by the start of season four; sister Chrissy enters the world during season four's second episode and is already a 6-year-old by season six.

How were they inspired by previous sitcom staples? Fresh Prince was very much a descendant of Diff'rent Strokes, a show that had signed off just four years earlier: Troubled youth shipped off to a new, wealthy digs; culture clashing ensues. But in the post-Cosby era (and the emergence of hip-hop as mainstream music), the old white man (Mr. Drummond) was replaced by a loving, butler-having African-American couple (Phil and Vivian Banks). Growing Pains, meanwhile, took the Family Ties template and ran with stole it: hunky teen lead, annoying sister, annoyingly perfect parents. Even the theme songs were both male-female duets. Sha-la-la-la, indeed.

Are the shows any good? Sort of. They both did an admirable job of educating the youth of their times about the ills of society and the importance of family. And there weren't always happy endings (I got a little choked up watching this clip of Carol Seaver freaking out after boyfriend Matthew Perry dies from injuries cause by a DUI). In the case of Fresh Prince, we got to see the blockbuster charm of Smith in its early stages, and it was impressive.

The moment of truth: I remember the jokes being a little funnier on Growing Pains than Fresh Prince (yes, it's relative). But at its core, it really was a clone of numerous family comedies before it: well executed, but wholly derivative. (And it's hard to look at Kirk Cameron objectively now without picturing him later visiting college campuses to pass out edited copies of Darwin's Origin of the Species that argued for creationism.) By contrast, Fresh Prince felt a little different, perhaps only because of Smith's overwhelming magnetism. Winner: Fresh Prince. Smell ya later!