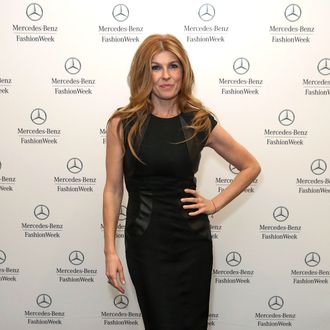 Photo: Chelsea Lauren/Getty Images
Connie Britton is enjoying her time in Nashville, but please, for the love of God, stop calling her character Rayna James "aging." "[The] minute I've been referenced in writing as aging, I'm done," Britton tells The New York Times Magazine in a profile that acknowledges her hair in four separate mentions. Not only is Britton not "aging," but she is also not experiencing any kind of rivalry, musically or otherwise, with younger women.
"In my experience of watching Connie Britton's dating life, it has not been Connie getting beaten out by 25-year-old girls, let's leave it at that," says the producer Sarah Aubrey, a friend. If Britton bristles at characterizations of a 40-year-old woman as losing her appeal, it's because she thinks those assumptions are off-base. "Because frankly I've had a different experience, as a single woman," she said. "Younger men and all that." It's not that she has a particular pattern of dating younger men, she clarified. "Let's put it this way: The older you get, the easier it is to date younger men." She laughed. "There are more of them."
Suck it, Juliette Barnes.