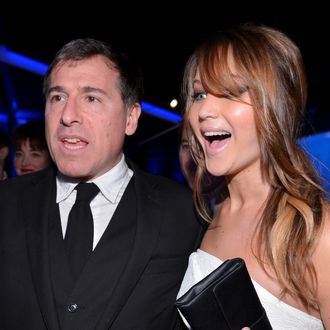 O. Russell and Lawrence.
Photo: Alberto E. Rodriguez/2013 Getty Images
Jennifer Lawrence is on the fast track to becoming David O. Russell's full-time muse. After Lawrence's Oscar-nominated turn in Russell's Oscar-nominated Silver Linings Playbook, the 22-year-old actress lined up a role (now being termed a cameo by THR) in Russell's untitled film formerly known as American Bullshit. Now Russell has settled on The Ends of the Earth, which Lawrence joined last summer, as his next next film. Set up at the Weinstein Company, the drama is "a fact-based love story about a powerful oil tycoon who has everything stripped from him after he is caught in an affair." Lawrence will play the tycoon's niece. Bradley Cooper will obviously play the tycoon. Maybe.