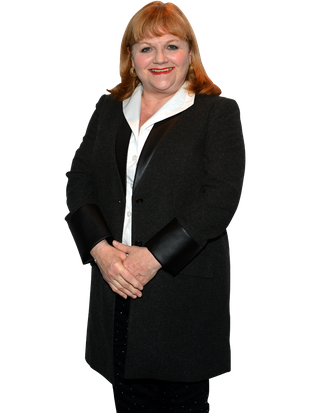 Lesley Nicol.
Photo: Getty Images
Lesley Nicol, the actress who plays Downton Abbey's often-harried cook Mrs. Patmore, said she pestered series creator Julian Fellowes like he was Daisy about giving her character a man. After months of nudging, he relented. "He was probably thinking, Oh, shut up already! I had asked so many times," she laughed. Nicol even got to shed her apron and gussy up for Sunday's season-ending Christmas special. "But it won't turn out how you think," she warned. Back in December, before she booked a guest role on Once Upon a Time, Vulture sat with Nicol in Los Angeles for a chat about her victory with Fellowes, her new mission to sing on Downton, and the fancy Jaguar she was borrowing from a friend.
You recently posed for German Vogue.
Yes! People like me don't get photographed by Bruce Weber, so it just seemed completely crazy. They approached me because he was a big fan of the show. He said his favorite character was Mrs. Patmore. I was surprised. But it was absolutely lovely. They came to Ealing [Studios] and he took pictures of me in a fancy dress and then we went into the kitchen and he took some of me as Mrs. Patmore. He was utterly charming, and it was an amazing, out-of-the-blue experience for me.
I feel like we never get to see Mrs. Patmore eat. She doesn't even dine with the servants.
This is in line with historical accuracy, and we've only ever shown it once in the first season. She eats in the kitchen with the kitchen maids. The only meal I remember eating in the servants' hall was Christmas dinner. I remember we were all tucking in to Christmas pudding and custard and we were all a bit greedy, and by the end of the day, we were all sick.
Long day?
Loooong shooting day, and if you do eating scenes, the trick is not to eat very much because you will end up eating a lot. Us? We kept asking for more custard.
Rob James-Collier told me some wild stories about break dancing competitions in the servants' hall. What is it like really?
We get told off quite a lot. It's a different atmosphere than upstairs, which has nothing to do with the actors. They're just more restrained upstairs because they're filming in somebody else' house, a fancy house with expensive stuff around. They can't be too giddy. The servants are on a set, so we can be more ourselves. The spirits are high downstairs! If there's ever a problem, it's that we're noisy and we need to calm down. Rob is very noisy. He's one of the worst, for sure.
I hear Mrs. Patmore will have a suitor in the Christmas episode.
You know, I can't tell you the story, but yes. What's nice for me is that I put in a request for this, well, on the first day of shooting this season, which was last February. And it wasn't the first time I asked Julian for it, so I was really pleased when it finally showed up. [Laughs.] I actually thought Julian was really fed up with me because I'd said it too many times.
Why was it important to you?
I wanted to see what would happen. I wanted to investigate what would happen to a lady like Mrs. Patmore if those feelings came to the surface. It's not true to say women of that age don't feel that stuff, because they do! I thought there might be some comic potential as well, or even that it might be quite touching to see her have some male attention. She obviously hasn't for a very long time. [Laughs.]
Did you speak to Julian after you saw it in the script?
Yeah, I think he just said, "Are you happy now?" and I said, "Yes, thank you!" It was like, Are you happy? Now shut up. Now I have to think of something else to request for next season.
Strike while he's in a giving mood!
Yeah, I think I should be a nightclub singer. I love to sing! I have to find a legitimate way to get that in as well. Sophie McShera, who plays Daisy, also sings very well. She played Annie as a kid and has got a great voice. I need to get something in there. Hmmm, it's my next mission.
People seem to be liking this season so far even more than last, based on ratings and reviews.
I don't know if I'm supposed to say this, but I thought it was better than last season. That was everyone's intention. I think we went about it with that real intent to try and make it better. Can you imagine how sad it would be if it were "Oh yeah, it used to be great." We desperately care for it.
Your publicist said yesterday you were going on an audition, so we had to postpone our chat. How'd it go?
That was actually a voice-over for a commercial.
What was it for?
It wasn't anything specific. I went into my agency, and they have their own engineers and directors and booths and you go and record for about an hour, different things, getting the best takes you can so they can send them out. You know David Attenborough, when he's narrating or talking about an animal he's watching? It was sort of like that. They wanted me to do a sort of BBC-type voice.
Your voice is adorable. This makes a lot of sense.
Why, thank you! I've auditioned for a few animations, and I've done one at home. Being in L.A. you realize there are a lot of people doing this out here. That's the trouble! Lots of competition.
You recently tweeted a picture of yourself next to a very fancy car.
Yes, that is a Jaguar Vanden Plais. A friend lent it to me. He's so sweet. I said, "But I'm going to be here for three months!" He didn't care. It's a double-edged sword because it's a lovely car but it's terrifying to get on the roads here. It's also a bit of a gas guzzler. I won't take it on the freeway.