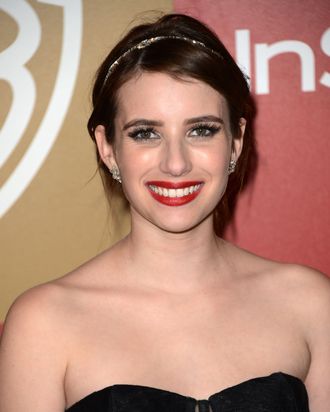 Actress Emma Roberts attends the 14th Annual Warner Bros. And InStyle Golden Globe Awards After Party held at the Oasis Courtyard at the Beverly Hilton Hotel on January 13, 2013 in Beverly Hills, California.
Photo: Jason Merritt/Getty Images
Emma Roberts is TV bound. TV Guide reports that she's been cast as the lead in the Fox pilot Delirium, based on the best-selling YA books Delirium, Pandemonium, and Requiem. The books (and show) are set in a world where love is considered a disease and everyone gets "cured" on his or her 18th birthday; Roberts will play Lena, a girl 95 days shy of said cure who meets a boy who sets her heart a-flutter. This would be Roberts's first TV role since Unfabulous, which too was set in a loveless dystopian future in which Nickelodeon controls everything.