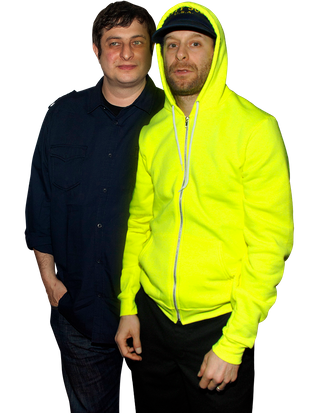 Photo: Corbis, Patrick McMullan
Delocated star and creator Jon Glaser has been a fixture of the comedy community for well over a decade: He started at Chicago's Second City; joined the now-storied writing staff of The Dana Carvey Show, alongside Louis C.K., Robert Carlock, and other greats; and went on to write for Late Night with Conan O' Brien for a half-decade. But this year is shaping up to be his biggest yet. In the past two months alone he's had roles on Girls (as Hannah's former-addict neighbor Laird) and Parks and Recreation (as the show's only villain, Councilman Jamm). And although his Adult Swim program is coming to an end March 7, it had a good three-year run. With all this going on, Vulture enlisted Eugene Mirman (Glaser's friend and repeat Delocated guest star) to check in on his fellow comic. Herewith, a slightly condensed version of their conversation, including a glimpse at Glaser's future as the improv king of Cancun.
Eugene Mirman: Um. All right. Well, I guess we just do this, right?
Jon Glaser: I guess so. What's your first question?
When's the first time you were like, I'm a comic and I'm fucking because I'm a comic?
How dare you, Eugene.
Okay: How do you feel about Delocated coming to a close?
Very bittersweet, of course. Certainly it was so much fun, and it's a bummer not to get to do any more [episodes], because it's enjoyable. But, you know, no complaints: It was a great run. They treated us very well. I got to make this weird, fun show and do it for three seasons, so can't really complain about that. 

And they gave you a final episode.
Exactly. It wasn't "Oh! It's canceled, thanks." We got to make this finale episode, which I think turned out great. That's pretty awesome.
What made you want to do it as a Bourne Identity, amnesia revenge journey? What made you want to do that?
There were a bunch of ideas for a season four, had we gotten to do it. And then when we found out the show was not coming back, and we were doing this finale episode … so we were just trying to focus on what ideas might be the best or most enjoyable for the finale. It felt pretty organic and connected to what could have happened. Not that logic ever really matters on Delocated. We did a whole episode based on Face Off being real.
It does feel like a very natural, great conclusion. Like it's funny that it's so ridiculous, but you're like, Oh, that's how that would end.

[Honking in the background.] Oh my God, can you hear all that fucking honking? I'm trying to figure out who's doing the honking. Oh man.

I'm assuming where you are it's probably John Turturro honking at Steve Buscemi.
[Laughs.] "John Turturro and Steve Buscemi Engage in Honk Feud … "

The Park Slope Eagle reports.
[Both laugh.]
Let's talk about Girls. I just saw that episode. How was it doing that? How did that come about?
I just auditioned and got lucky enough to get it. They actually changed the role a little bit after I auditioned. It was originally just this dad and then it became a junkie. It was a dad who did drugs and dealt drugs and then it became …
A junkie that was recovering and lived downstairs.
Correct. It was a very good time. I really like that show a lot. Lena's great. All the producers, everyone was just cool and they were very nice to me. It's a very cool set.
Is it a set or is it on location?
It was a set that looks like an apartment. I don't think they would care about saying that.

It would be really funny if a show with constant frank nudity was like, Whatever you do, don't tell people we're on an actual set. A show that was that open about everything was like, We don't want people to know it's a fake café.
It all looks like that's a real apartment, but it's not. The drug store was an actual drug store. And then the artist's loft, that was not a set, that was on someone's actual big, beautiful apartment.
Are you in any more upcoming episodes?
I'm in one more.

Nice. That was shot for this season?
Correct.
How did the part on Parks and Rec come about?
I got offered the role. I didn't have to audition. That was pretty cool. It came out of nowhere, and I just ended up doing a whole bunch. I actually just got back from being in L.A. for five weeks, doing a few more episodes. Thankfully my family came out. Otherwise it would have been a lot harder to be away.
Amy Poehler you've known for years. Did you start doing improv together? You know her from New York or Chicago?
I knew her from Chicago. Although, not that well in Chicago. But we did do a bit of work together in Chicago. Then I got to know her a lot better in New York when those guys, the UCB, moved here and started doing their shows and opened their theater. I've known her a while. One of the writers, Dan Goor, we overlapped very briefly at Conan. And Mike Schur, one of the show's creators, I know a little bit from when he was an SNL writer and I met him here in New York. I know Aziz. I know Nick Offerman a little bit. I know Aubrey Plaza from working on this really fun web series for ESPN called "Mayne Street."
What's it like being one of the last fifteen comics left in New York City?
It's very strange.

That's one of my questions.
It's weird. I mean, I bumped into Michael Showalter on the subway and we were having that discussion and came up with the funny idea of some type of show or web series about the last remaining few people in New York like me, him, you, H. Jon Benjamin. Even some people we have talked about have already moved to L.A. in the last few months.

Right.
We had a funny idea for a show called Stayin Put!

I hope Showtime is listening right now.
I'm essentially pitching this through this article, in hopes that someone will read it and go, Oh that sounds funny. I think it would truly be hilarious. We've been kind of talking about it for months. Like: Is this funny? Should we do this? It seems so dumb and funny to me. It would be about whoever's left in New York.

That's funny. Let's see who's reading this that buys it.
That's the new way to pitch shows: do an interview and discuss ideas, and it gets printed somewhere and someone either buys it or steals it.

I want to do a documentary of going to Russia. So somebody read this and give me, I guess, somewhere between half a million and 1 million dollars. I just pitched the budget. I don't know anything about production, but I think that sounds reasonable to me.
Well, I was going to pitch a show called Living in Cancun, where my family moves to Cancun. And then I open an improv theater down there. And it's like, How does this guy who's trying to be an actor and a comedian — how does he make it work it Cancun? So the show would move me from New York to Cancun, we get this condo, and then they just sort of see me like, How does he do it? Does he fly back and forth from Cancun to L.A. doing auditions? But also auditioning for things in Cancun? There's actually a show called Chiquitas which is sort of like Girls but it's in Cancun. It follows these twentysomethings in Cancun.

And to try to be a writer in Cancun.
And then there's a sort of similar Parks and Rec show in Cancun, and I've gotten a role on that. And I just try to get shows based on the shows that I've already done.

I have actually a similar show to Delocated but it takes place in Nice, France. So hopefully someone will move me there and buy that.
Hopefully some weirdo billionaire will read this and go, You know what, he was probably kidding but I'm going to call him on it and see if he actually will do it. I'll pay for him to live in Cancun. Even if someone came to me and said that, I couldn't imagine saying yes. Because then we're just in Cancun — no friends, we're just there by ourselves.

Yeah, you'd have to make friends in the improv community.
First, I'd have to make the improv community, then become friends with some of those people. I guess I'd become like Sammy Hagar, right?

Did he create a community of rockers?
Didn't he open Cabo Wabo? Isn't that like a tequila place or something like that? In Cabo St. Lucas?

I think it's easier to open a tequila place in Mexico than an improv theater?
I disagree, and I'm going to take you up on that challenge. If Sam called it Cabo Wabo, I'll call mine the Cancun Saloon. Cabo Wabo you got some competish: Jon Glaser's Cancun Saloon.

[Laughs.] Seven nights of improv.
Man, oh man. Cancun Saloon! And I'll come back to America and do my all-star band called Chicken Leg or whatever that band was he did.

Who was in that? Roy Orbison and Slash …  I can't remember. [Both laugh.] What if Chicken Leg and the Traveling Wilburys
formed a more super band?
[Laughs.] Chicken Wilburys. The Traveling Chickenburys. What was that band called? Chicken Hawk?

There definitely was Chicken leg. I think you're right.
Chicken Leg? Man, oh man. [Editor's note: Sammy Hagar's band was called Chickenfoot.]

I think it was mostly guitars.
Cancun Saloon will just be me and Benjamin and Todd Barry.

The thing is there's probably already a place called that.
Called what? Cancun Saloon?

I bet that's already a place. If you Googled it, we'd be like, Oh, we just provided 45 minutes of free Cancun Saloon advertising.
I'm doing it … right now.

It's going to be a place, but it's going to be a place in San Diego.
Cancun Saloon. Restaurant in Hamer, South Carolina. Cancun Saloon, Hamer and in all caps CLOSED. Yelpers report this place has closed.

I guess you do have a shot then.