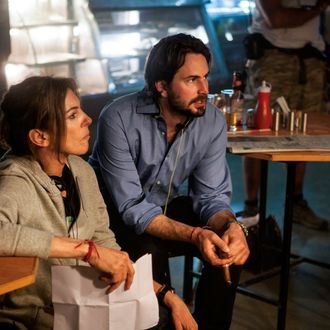 Bigelow and Boal.
Photo: Jonathan Olley
Zero Dark Thirty's Oscar race will soon be over, but the various controversies surrounding the movie will continue. The family of Betty Ong, a flight attendant who died on 9/11, is unhappy about the filmmakers' use of a recording of a phone call she made from the highjacked American Airlines Flight 11. The family had previously complained about the inclusion of her voice, which can be heard over the movie's opening sequence, in a February 15 letter to screenwriter and producer Mark Boal in which they asked that a donation be made to a charitable foundation set up in Ong's name. They also asked that Sony Pictures Entertainment add a film credit for Ong, along with "a statement on both its Web site and on home entertainment versions of the film making clear that the Ong family does not endorse torture, which is depicted in the film." Now, Ong's brother, Henry, says that the family also wants ZDT's makers to apologize for using the recording without their consent during the Oscars ceremony, should the movie win anything.
Boal has responded with a statement saying, "As the 9/11 commission justly proclaimed, Betty Ong is without a doubt one of our national heroes." Meanwhile, Sony released its own statement noting that Boal and director Kathryn Bigelow "have been in close contact" with the families of 9/11 victims since the release of ZDT, which they said was, "in some small way, a tribute to those forever affected by the attacks." However, they did not say whether they planned to honor the Ongs' requests.