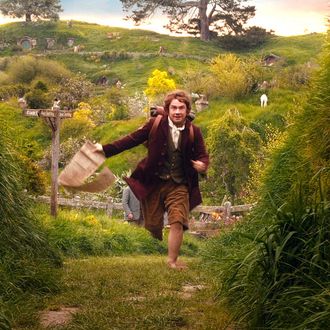 MARTIN FREEMAN as the Hobbit Bilbo Baggins in the fantasy adventure "THE HOBBIT: AN UNEXPECTED JOURNEY," a production of New Line Cinema and Metro-Goldwyn-Mayer Pictures (MGM), released by Warner Bros. Pictures and MGM.
Photo: Courtesy Warner Bros. Pictures/Warner Bros
Because a brief seven-month wait between the middle and final Hobbit films wouldn't be at all in keeping with the ethos of this mind-bogglingly stretched-out project, The Hobbit: There and Back Again has been bumped from July 18, 2014 to December 17, 2014. On the plus side, you've got an extra few months to speculate about whether it will have more or less endings than Return of the King.